The following statement was submitted to It's Going Down and addresses a series of ongoing attacks on queer and trans people in the Portland, Oregon area. The attacks come hot on the heels of an escalation of violence and rhetoric from far-Right groups in the area like the Proud Boys and Patriot Prayer. Follow the tweets for links to resources and upcoming events in response.
Weeks after #ProudBoy "Tiny" Toese stated he was starting an "anti-f*ggot movement," there's been multiple violent attacks on queer + trans people in #Portland area. Tiny's also endorsed on other videos extreme violent acts and working with the Alt-Right and neo-Nazis at rallies. pic.twitter.com/CLXxWY8nmI

— It's Going Down (@IGD_News) February 14, 2019
Those of us in the antifa/radical community know of at least 8 confirmed attacks on queer people in town in the last two weeks. We've received a report that another person was attacked last night and that the police told them there have been closer to 15 or 16 attacks. We do not trust the police and cannot verify these attacks, but it seems likely that more have not been shared openly. One attack was in broad daylight as a person was heading home from work, they were hit in the head with a full beer can and the attackers yelled homophobic slurs at them.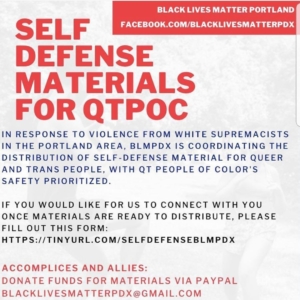 Good morning.

@

BLMPDX

is putting together self defense materials for QTPOC in response to violence committed against queer and trans folks. Here is a flyer with the info as well as a link to get you hooked up. **PLEASE SPREAD WIDELY** 

https://twitter.com/FemmesStrikeBac/
Most of the attacks have occurred at night, with several men in a vehicle attacking the person from behind with blunt objects. In most cases, the vehicle was described as a red or maroon truck or SUV. Several have occurred in the same part of town, the others have been across town, seeming to be close to freeway access. After our attempts to alert the broader community of these attacks, local media is finally catching up to it. The single article published merely amplified police attempts to discredit survivors. We are not trying to spread a narrative of fear, but to encourage people to take care of each other and fight back against this shit.
It has always been important to stand strong together in the face of our oppressors, but now it is necessary to strengthen that unity to protect the ones we love. Our safety is in no ones hands but our own. The attacks on LGBTQ+ people are just another strain of the violence perpetrated on marginalized communities by police, the institutions, and the white supremacists that attack communities of color, indigenous people, immigrants and women, all over the world. As radicals and as queers, we have never been safe around the police. Now that our long held suspicions of collaboration and coordination between the Portland Police and Patriot Prayer (a violent far-Right nationalist group) have been confirmed, it is especially important to realize that the only ones who can and will look out for our safety is each other.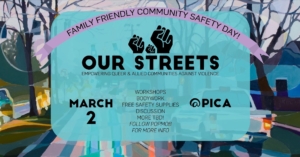 Join us next Saturday (March 2nd) for Our Streets: a day of queer resiliance and empowerment. There will be workshops, self-defense classes, bodywork, community discussions, food, art, free safety supplies, and so much more! join event: https://m.facebook.com/events/352721098915158
All eyes are on Portland right now and we do not stand alone! There has been a massive outpouring of support from cities all around the world in solidarity. We fight for the dignity and protection of ALL queer and trans people everywhere regardless of race, class or citizenship status. This is no longer an invisible issue and we must act! We will never be silent we will never let the fascists run us out of our city and our home that we love. Solidarity in love and rage from Portland across the globe! We will fight tooth and nail and we will WIN.
"Now that our suspicions of collaboration between the Portland Police and the far-Right has been confirmed, it is especially important to realize that the only ones who can and will look out for our safety is each other." #Portland https://t.co/rbpUxMtIRZ pic.twitter.com/dgyuxGmg9u

— It's Going Down (@IGD_News) February 25, 2019