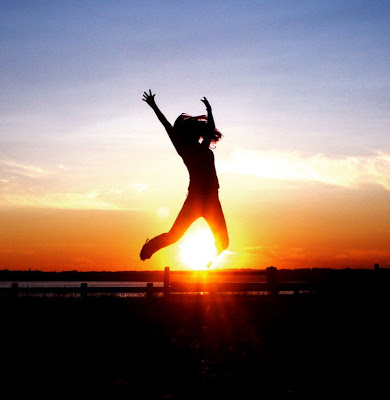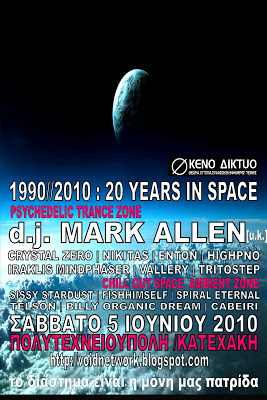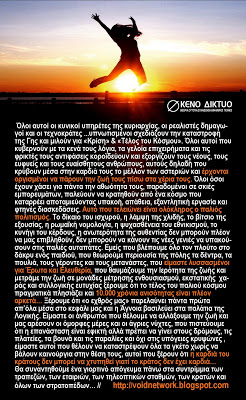 KENO DIKTYO
VOID NETWORK
20 Years in Space

Saturday 5 June 2010

POLYTEXNEIOYPOLH
(Polytechnic University Campus)
entrance Katexaki
starts 22.00
Psychedelic Trance Zone:
MARK ALLEN (2.30 hours set)
CRYSTAL ZERO
IRAKLIS MINDPHASER
NIKITAS
ENTON
HIGHPNO
VALLERY
Chill out space ambient Zone:
FISHIMSELF
SISSY STARDUST
TELSON
SPIRAL ETERNAL
BILLY ORGANIC DREAM
CABEIRI
if it rains the party will be at the Garage of Polytechnic University Campus // Σε περίπτωση βροχής το πάρτυ θα γίνει στο γκαράζ της Πολυτεχνειούπολης…Οπώτε βρέξει δεν βρέξει το πάρτυ θα γίνει σίγουρα!


As you know, for the last 20 years Void Network based the cultural action of the collective on the creativity and the imagination of the local d.j.s, artists, producers, poets and cultural activists. But, in very rare, special celebrations Void Network invited already some international very important artists and good friends as Electric Universe, Man With No Name, Mr. Pequliar in the classical underground free festivals of Athens. For this very special moment Void Network celebrating 2010 and the 20th year of non stop undergound cultural, political and philosophical activity invites some of the best djs of Athens underground and also offers in a free festival in Polytechnioupoli,…for all of you crazy freaks of this country,… the most important psychedelic trance d.j. of this planet ever, d.j. MARK ALLEN from u.k.
You are all welcome…The summer of 2010 is just started and it will be Historic!
Love for all of you….We will meet at the Outer Space!

KENO DIKTYO
VOID NETWORK
more than 2500 people came at Polytechnic
University campus to celebrate freedom of existance
and ecstatic collective Happiness
Unfortunately the possibility of rain forced
the garage area of Polytechnic University
campus, the place that hosts
usaly our clasic winter parties…
Even though the feeling was great,
all people had amazing time
and the music of the 2 stages
was maybe better than ever!
and all cultural activists that made this event