VOID NETWORK
[Theory, Utopia, Empathy, Ephmeral Arts]
KENO ΔΙΚΤΥΟ
[Θεωρία, Ουτοπία,
Συναίσθηση, Εφήμερες Τέχνες]
http://voidinternational@gmail.com
BLACK PANTHER Party
Το Κοινωνικό Πρόγραμμα των
Μαύρων Πανθήρων για την ανατροπή της Κυριαρχίας

BLACK PANTHER PARTY
The social Programme of the
Black Panthers against domination
a lecture and open talk by
GEORGE KATSIAFICAS

ΠΑΡΑΣΚΕΥΗ 17 ΑΠΡΙΛΙΟΥ 2015
ΩΡΑ ΕΝΑΡΞΗΣ 20.00
friday 17/4/2015 starts at 20.00
the talk will be in English with Greek translation
ΔΙΑΛΕΞΗ/ANOIXTH ΣΥΖΗΤΗΣΗ:
GEORGE KATSIAFICAS (U.S.A.)
Καθ. Κοινωνιολογίας, μαθητής του Χερμπερτ Μαρκούζε, συγγραφέας-ερευνητής κοινωνικών κινημάτων αντιεξουσιαστής ακτιβιστής από την δεκαετία του '60 έως σήμερα.
Έργα του: «Η Φαντασία της Νέας Αριστεράς» (Παγκόσμιος Μάης '68), «Η Ανατροπή της Πολιτικής» (κινήματα αυτονομίας στην Ιταλία και την Γερμανία το '70), «Απελευθέρωση, Φαντασία και το Κόμμα των Μαύρων Πανθήρων», «Οι Άγνωστες Ασιατικές Εξεγέρσεις»

* George Katsiaficas, a student of Herbert Marcuse, and long-time activist, he is the author of The Imagination of the New Left: A Global Analysis of 1968. His book, The Subversion of Politics: European Autonomous Social Movements and the Decolonization of Everyday Life. Among his edited volumes are Liberation, Imagination and the Black Panther Party (with Kathleen Cleaver) and Vietnam Documents: American and Vietnamese Views of the War. George Katsiaficas is currently living in Gwangju, South Korea. A visiting professor of sociology at Chonnam National University, he is finishing research on East Asian uprisings in the 1980s and 1990s.

ΤΙ ΕΧΟΥΜΕ ΝΑ ΔΙΔΑΧΘΟΥΜΕ ΑΠΟ ΤΗΝ ΕΠΑΝΑΣΤΑΤΙΚΗ
ΑΥΤΟΟΡΓΑΝΩΣΗ ΤΩΝ ΜΑΥΡΩΝ ΠΑΝΘΗΡΩΝ?
ΠΟΙΑ ΤΑ ΟΡΙΑ ΕΝΟΣ ΕΠΑΝΑΣΤΑΤΙΚΟΥ ΚΟΜΜΑΤΟΣ
ΚΑΙ ΜΕ ΠΟΙΟ ΤΡΟΠΟ ΤΑ ΚΙΝΗΜΑΤΑ ΜΠΟΡΟΥΝ ΝΑ ΥΠΕΡΒΟΥΝ ΤΟΥΣ ΚΟΜΜΑΤΙΚΟΥΣ ΜΗΧΑΝΙΣΜΟΥΣ? ΥΠΑΡΧΕΙ ΤΡΟΠΟΣ
ΝΑ ΖΗΣΟΥΜΕ ΕΛΕΥΘΕΡΟΙ
ΜΕΣΑ ΣΕ ΕΝΑ ΚΟΣΜΟ- ΦΥΛΑΚΗ?
WHAT WE CAN LEARN FROM THE SELF-ORGANISED REVOLUTIONARY STRUGGLE OF THE BLACK PANTHER PARTY? WHICH ARE THE LIMITS OF A REVOLUTIONARY POLITICAL PARTY AND WHAT IS THE WAY FOR THE MOVEMENTS TO OVERPASS THE LIMITATIONS CREATED BY THE STRUCTURE OF A POLITICAL PARTY ?
IS THERE A WAY TO LIVE FREE IN A PRISON-WORLD?
Ελεύθερο
Αυτοδιαχειριζόμενο
Θέατρο ΕΜΠΡΟΣ
Ρήγα Παλαμήδη 2 Ψυρρής
Occupied Self-Organised
Free Theatre Embros
Riga Palamida 2 / Psiris area
Athens Greece

Μετά τις 23.30 ακολουθεί ΠΑΡΤΥ ΟΙΚΟΝΟΜΙΚΗΣ ΕΝΙΣΧΥΣΗΣ του 1ου LGBTQI+ Pride Κρήτης
(Φεστιβάλ Ορατότητας και Διεκδικήσεων για την Απελευθέρωση Φύλου, Σώματος και Σεξουαλικότητας)
περισσότερες πληροφορίες:
https://www.facebook.com/events/671228829689756/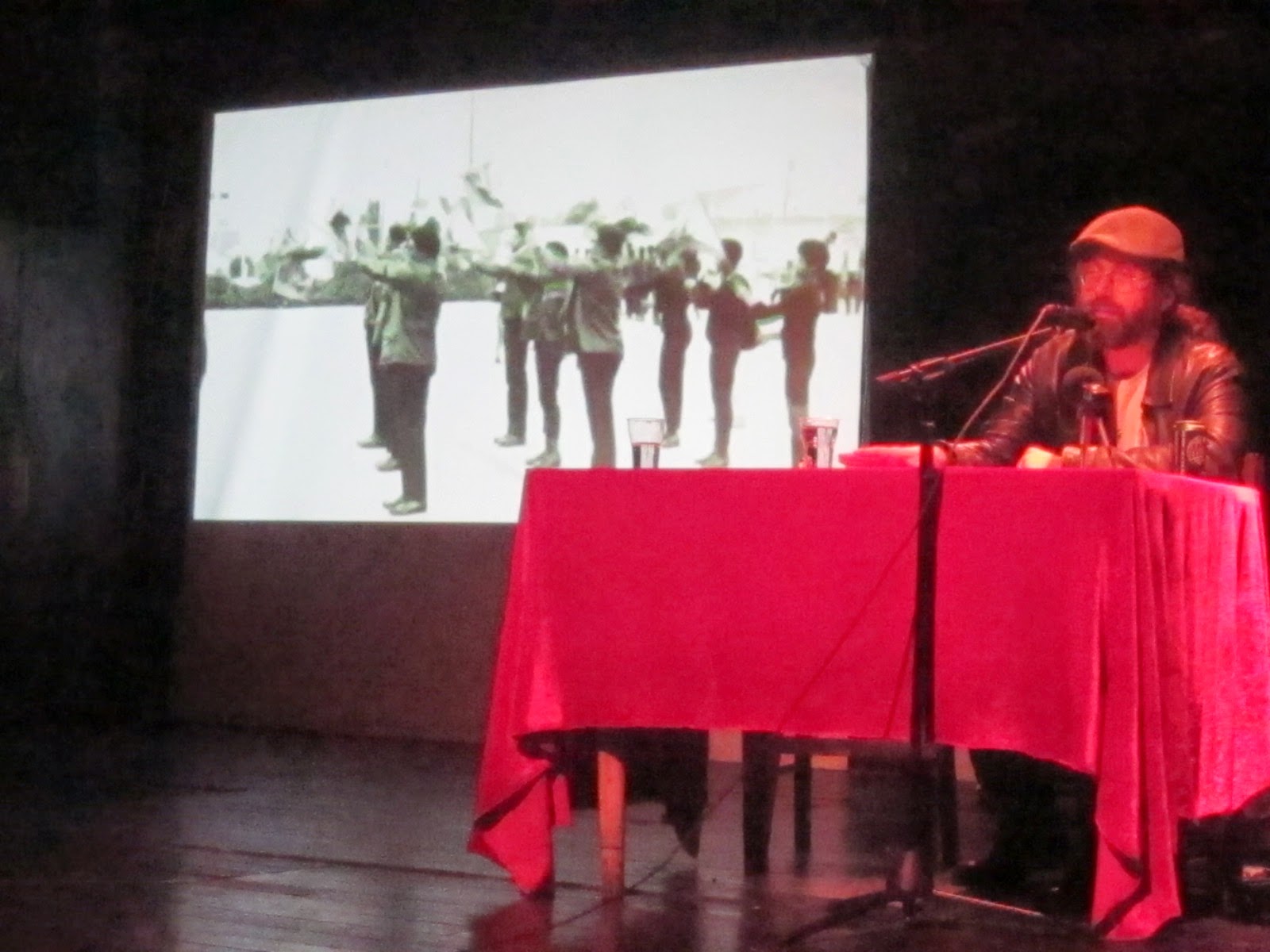 Intro by Yiannis Raouzaios from Void Network "Communities of Struggle"
The movement of the Black Panthers, the successes and the failures, the limitations of the centralism and the radical contribution of the everyday life people in struggle was some of the understandings offered to us by the talk of George Katsiafikas in Athens.
The video of the talk will be uploaded here soon.
We publish here photos from the event and the following queer party of the same night as also a text of comparison between the Black Panther Party Platform and Programme of 1966 and the far more radical announcements of the Revolutionary Peoples' Constitutional Convention in 1970 proving that when people liberate themselves from the limitations of a political party and self-organize the resistance can bring much more radical and beneficial results than their own political party.


Solidarity Party in Occupied Theatre Embros for the preparations of the first self-organised LGBTQI Festival in Crete-Greece