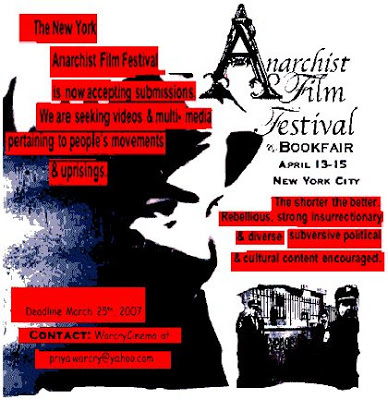 I am so sorry to be out of touch all these months. It is not because I forget you.
I never forget how great you are. It gives me hope in this hell hole.
I am working with a very good video collective in NewYork
called Glass Bead Collective.
They do really goodVJ sets. see their website.
But also see my friend Flux's website.
He is very goodfilmmaker.- anarchy video
Maybe you like something you see.
I am also learning to do some VJ sets.
I am for sure coming to Europe in May and we will tour together.
The people from fluxstrum are all very interested to tour in Europe with us
and they are good VJ's. I think you will like what they do.
They also have a surround screen which they call an "immersiveenvironment"
and its very cool. I'm sure they can bring it.
In April, here in NewYork we are having the first ever,
Anarchist Bookfair and Film Festival,
and I will show some things from Greece, but if you want to come to it,
you can stay with me in my apartment in New York.
But when I come to Europe I will have my films ready for you as well.
Maybe Flux and my friends from GlassBead will also want to come.
I am just saving my money so I can escape USA and come there.
This past year was horrible for me.
I almost want to die because my close friend
Brad Will was shot and killed in Oaxaca Mexico in October.
He was like my brother, my family, and we also lived together
for along time and travel together.
When they killed him, I felt also like they killed me a little.
I made a shortvideo about Brad
from when we were traveling together in Holland in 2000.
Here is the link to the website where I started to put my videos.
This is the link to the short film about Brad that I made.
(It is a 6 minute music video called "You are my Sunshine")
I am very sad these days, but I will try to finish my films
because I want to come there in May.
Here is the link to the flier I made for the filmfestival.
We are making it in honor of our friend Brad Will.
big hugs and kisses to all of you!
We are always so glad to read your messages.
(say hello to Philip from Global Eye
to Sissy, to Athena and Nassos too!)
Love
Priya / WarCryCinema
>>>The photos in the post is by Achilleas Savopoulos
The poster is made by WarCryCinema