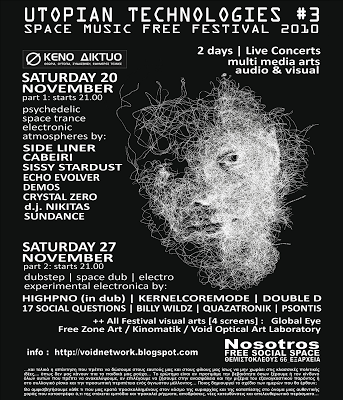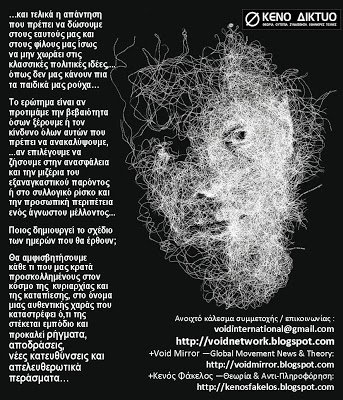 Void Network 


presents 


Utopian 
Technologies #3 
Space Music Free Festival 
2 days
Live Concerts | d.j. sets
Multi Media Arts
audio & visual
Nosotros / Free Social Space
Themistokleous 66 Exarchia
Athens / Greece
Saturday 20 November 2010
psychedelic ambient trance
electronic atmospheres


21.00-22.30
Sundance 
http://www.myspace.com/mendark 
01.30-02.30
Sissy Stardust 
http://www.myspace.com/sissystardust
02.30-03.30
Cabeiri 
http://www.myspace.com/cabeiri
03.30-04.30
dj Nikitas 
http://www.myspace.com/djnikhtas
04.30-05.30
Crystal Zero
http://www.myspace.com/djcrystalzero


&
Saturday 27 November 2010
dubstep | space dub | electro
experimental electronica


9:00-10:30
Billy Wildz
10:30-11:30
Highpno (in Dub)
11:30-12:30
Kernelcoremode
17 Social Questions
http://voidnetwork.blogspot.com
01:30-02:30
Double D
02:30-03:30
Quazatron
++++
all festival  visual arts by:


Void Optical Art Laboratory
http://www.youtube.com/voidnetwork
Global Eye
http://www.myspace.com/globaleye
Free Zone Art
http://zonafreeart.blogspot.com/


…and…in the end, it seems that the answer we have to give to ourselves and to our friends maybe it doesn't fit to the classical political ideas like we can not fit anymore in our childish cloths…
The question is,….
Do we prefare the certainty of all these we already know or the danger of all these we have to discover ?
Do we choose to live in the insecurity and misery of the coercive present or in the collective risk and the personal adventure of an unknown future?
Who creates the plan of the days will come?
We will dispute everything that keep us attached in the world of domination and oppression,…in the name of an authentic Joy that destroys any obstacle that stands on its way and creates cracks, escape routes, new directions and emancipatory exits…
text from the flyer:Tasos Sagris / Void Network
…και τελικά,… η απάντηση που πρέπει να δώσουμε στους εαυτούς μας και τους φίλους μας ίσως να μην χωράει στις κλασσικές πολιτικές ιδέες…, όπως δεν μας κάνουν πια τα παιδικά μας ρούχα…
Το ερώτημα είναι αν προτιμάμε την βεβαιότητα όσων ξέρουμε ή τον κίνδυνο όλων αυτών που πρέπει να ανακαλύψουμε,…αν επιλέγουμε να ζήσουμε στην ανασφάλεια και την μιζέρια του εξαναγκαστικού παρόντος ή στο συλλογικό ρίσκο και την προσωπική περιπέτεια ενός άγνωστου μέλλοντος…

Ποιός δημιουργεί το σχέδιο των ημερών που θα έρθουν?Θα αμφισβητήσουμε κάθε τι που μας κρατά προσκολημένους στον κόσμο της κυριαρχίας και της καταπίεσης, στο όνομα μιας αυθενικής χαράς που καταστρέφει ό,τι της στέκεται εμπόδιο και προκαλεί ρήγματα, αποδράσεις, νέες κατευθύνσεις και απελευθερωτικά περάσματα  
κείμενο φυλαδίου : Τάσος Σαγρής / Κενό Δίκτυο


you can see here
short videos from
Utopian Technologies 
Festivals #1 and #2