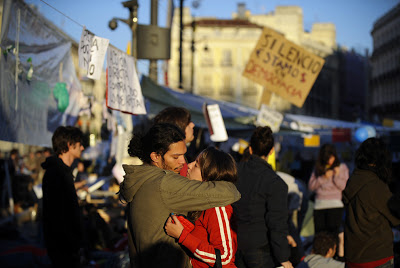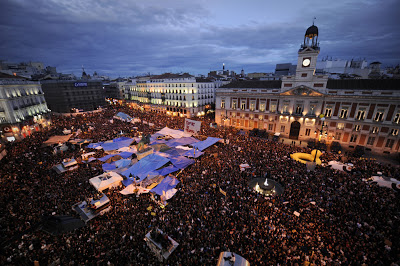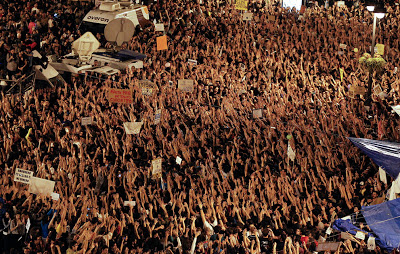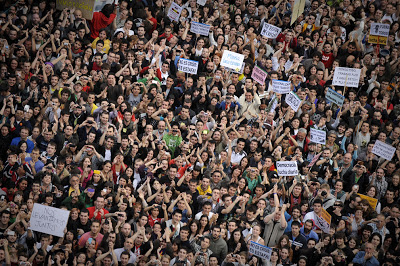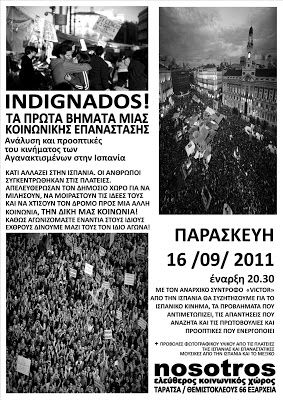 ΜΙΑΣ ΚΟΙΝΩΝΙΚΗΣ ΕΠΑΝΑΣΤΑΣΗΣ
ΤΟΥ ΚΙΝΗΜΑΤΟΣ ΤΩΝ ΙΣΠΑΝΩΝ «ΑΓΑΝΑΚΤΙΣΜΕΝΩΝ»
Political Event : Analysis and perspectives of the Spanish Movement of
ΚΑΤΙ ΑΛΛΑΖΕΙ ΣΤΗΝ ΙΣΠΑΝΙΑ. ΟΙ ΑΝΘΡΩΠΟΙ ΣΥΓΚΕΝΤΡΩΘΗΚΑΝ ΣΤΙΣ ΠΛΑΤΕΙΕΣ. ΑΠΕΛΕΥΘΕΡΩΣΑΝ ΤΟΝ ΔΗΜΟΣΙΟ ΧΩΡΟ ΓΙΑ ΝΑ ΜΙΛΗΣΟΥΝ, ΝΑ ΜΟΙΡΑΣΤΟΥΝ ΤΙΣ ΙΔΕΕΣ ΤΟΥΣ ΚΑΙ ΝΑ ΧΤΙΣΟΥΝ ΤΟΝ ΔΡΟΜΟ ΠΡΟΣ ΜΙΑ ΑΛΛΗ ΚΟΙΝΩΝΙΑ,
ΤΗΝ ΔΙΚH ΜΑΣ ΚΟΙΝΩΝΙΑ!
ΚΑΘΩΣ ΑΓΩΝΙΖΟΜΑΣΤΕ ΕΝΑΝΤΙΑ ΣΤΟΥΣ ΙΔΙΟΥΣ ΕΧΘΡΟΥΣ ΔΙΝΟΥΜΕ ΜΑΖΙ ΤΟΥΣ ΤΟΝ ΙΔΙΟ ΑΓΩΝΑ!
Something Changes in Spain. The people gathered at the squares,…they liberated the public space to meet, talk, share ideas and build the way for an other Society,…OUR OWN SOCIETY!
As we struggle against common enemies OUR STRUGGLES ARE COMMON!
ΠΑΡΑΣΚΕΥΗ 16 ΣΕΠΤΕΜΒΡΙΟΥ 2011
ΜΕ ΤΟΝ ΑΝΑΡΧΙΚΟ ΣΥΝΤΡΟΦΟ «

VICTOR

» ΑΠΟ ΤΗΝ ΙΣΠΑΝΙΑ
ΘΑ ΣΥΖΗΤΗΣΟΥΜΕ ΓΙΑ ΤΟ ΙΣΠΑΝΙΚΟ ΚΙΝΗΜΑ,
ΤΑ ΠΡΟΒΛΗΜΑΤΑ ΠΟΥ ΑΝΤΙΜΕΤΩΠΙΖΕΙ,
ΤΙΣ ΑΠΑΝΤΗΣΕΙΣ ΠΟΥ ΑΝΑΖΗΤΑ ΚΑΙ ΤΙΣ ΠΡΩΤΟΒΟΥΛΙΕΣ
ΚΑΙ ΠΡΟΟΠΤΙΚΕΣ ΠΟΥ ΕΝΕΡΓΟΠΟΙΕΙ
With the Anarchist comrade "Victor" from Spain we will talk about the Spanish movement, the problems they are struggling with, how they try to solve them and wich initiatives they are putting in practice
+ ΠΡΟΒΟΛΕΣ ΦΩΤΟΓΡΑΦΙΚΟΥ ΥΛΙΚΟΥ ΑΠΟ ΤΙΣ ΠΛΑΤΕΙΕΣ
ΤΗΣ ΙΣΠΑΝΙΑΣ ΚΑΙ ΕΠΑΝΑΣΤΑΤΙΚΕΣ ΜΟΥΣΙΚΕΣ
ΑΠΟ ΤΗΝ ΙΣΠΑΝΙΑ ΚΑΙ ΤΟ ΜΕΞΙΚΟ
+visual show from spanish movement of the squares and revolutionary music from Spain & mexico
ΕΛΕΥΘΕΡΟΣ ΚΟΙΝΩΝΙΚΟΣ ΧΩΡΟΣ «
NOSOTROS
»
ΤΑΡΑΤΣΑ // ΘΕΜΙΣΤΟΚΛΕΟΥΣ 66 ΕΞΑΡΧΕΙΑ
free social space NOSOTROS
at the terrace / themistokleous 66 Exarchia Athens Greece