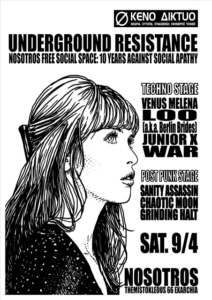 UNDERGROUND RESISTANCE
Nosotros Free Social Space:
10 Years against social apathy
SATURDAY 9 APRIL 2016
starts 23.00
TECHNO STAGE
Venus Melena
Loo (aka Berlin Brides)
Junior X
War
POST PUNK STAGE
Sanity Assasssin
Chaotic Moon
Grinding Halt
Free Social Space NOSOTROS
Themistokleous 66 Exarchia
https://www.facebook.com/NosotrosSocialCentre/?fref=ts
To Kενό Δίκτυο έχοντας πάρει μέρος στην δημιουργία,
οργάνωση και λειτουργία του
Ελεύθερου Κοινωνικού Χώρου ΝΟSOTROS
συμμετέχει στον μήνα εορταστικών εκδηλώσεων
για τα ΔΕΚΑ ΧΡΟΝΙΑ ύπαρξης του χώρου.
Void Network took part in the creation, organization and function of Free Social Space NOSOTROS in Exarchia Athens from the first day until now. We participate during all April 2016 with a serial of events at the celebrative month for the 10 YEARS of the social center.
KENO ΔΙΚΤΥΟ
(Θεωρία, Ουτοπία, Συναίσθηση, Εφήμερες Τέχνες)
https://voidnetwork.gr/