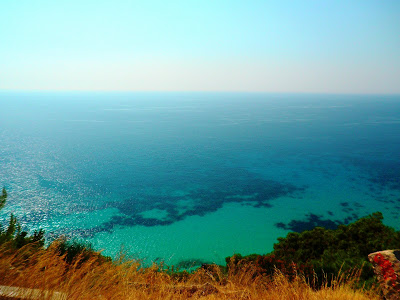 ;FREE CAMPING MOVEMENT //
INTERNATIONAL SUMMER CARAVAN
KINHMA ΓΙΑ ΤΗΝ ΕΛΕΥΘΕΡΗ ΚΑΤΑΣΚΗΝΩΣΗ //
ΔΙΕΘΝΕΣ ΚΑΛΟΚΑΙΡΙΝΟ ΚΑΡΑΒΑΝΙ
A MOBILE RECLAIM THE PUBLIC SPACE FESTIVAL FEATURING
SOUND SYSTEMS // BEACH PARTIES //
PERFORMANCES // POETRY SHOWS
MULTI MEDIA ARTS // ECOLOGICAL AWARENESS //
OPEN PUBLIC ASSEMBLIES
FREE CAMPING MOVEMENT
INTERNATIONAL SUMMER CARAVAN 2010 :
SAT. 24 JULY 2010 ~ FULL MOON ***
LEFKADA ISLAND
PEFKOULIA BEACH
19.00-20.00 MAGNUS
[electronica]
20.00-21.00 SISSY STARDUST
[psy-ambient]
21.00-22.00
FREE CAMPING MOVEMENT ASSEMBLY
ΣΥΝΕΛΕΥΣΗ ΕΛΕΥΘΕΡΗΣ
ΚΑΤΑΣΚΗΝΩΣΗΣ
22.00-23.00 NICK THE FREAK
[reggae dub]
23.00-24.00 LIVE: BRILLIANTS
[punk rock]
24.00-01.00 LIVE: BAD MOVIES
[ska]
+ BEACH PARTY
dance
ZONE:
04.30-06.00 IRAKLIS MINDPHASER
06.00-08.00 CRYSTAL ZERO
multi media visual art by
Void Network
Όλες οι παραλίες, οι θάλασσες, τα βουνά, τα δάση, τα ποτάμια, οι ουρανοί αυτού του κόσμου ανήκουν σε όλους εμάς και όλοι μαζί θα διεκδικήσουμε παντού την ελευθερία να απολαμβάνουμε την ζωή χωρίς περιορισμούς και χωρίς απαγορεύσεις. Σκοπός του «Κινήματος Για Την Ελεύθερη Κατασκήνωση» είναι να διδάξουμε ο ένας τον άλλον την Αγάπη, τον Σεβασμό και την Προστασία της Φύσης και να υπερασπιστούμε την απόλυτη Ελευθερία της διαβίωσης στην απέραντη αγκαλιά της Γης και του Ουρανού. Θα ταξιδέψουμε με τους αγαπημένους μας ανθρώπους, τους φίλους μας και τους εραστές μας παντού, θα ζήσουμε ελεύθεροι όπου εμείς επιλέξουμε, θα προστατέψουμε τα δάση και τις παραλίες με τα γυμνά κορμιά μας… Δεν θα ζητήσουμε άδεια από κανέναν για να είμαστε ελεύθεροι
Ο∆ΗΓΟΣ ΕΛΕΥΘΕΡΗΣ ΚΑΙ ΥΠΕΥΘΥΝΗΣ ΚΑΤΑΣΚΗΝΩΣΗΣ
Πώς συνυπάρχουμε αρµονικά µε τους άλλους κατασκηνωτές, τους κάτοικους της περιοχής και µε την ίδια τη φύση; Απέναντι στον οργανωμένο περιορισµό της ελευθερίας, του ζωτικού χώρου έκφρασής της και στην περιθωριοποίηση του φυσικού τρόπου ζωής, είναι σηµαντικό για τους κατασκηνωτές να µάθουµε τουλάχιστον να συνυπάρχουµε ακολουθώντας κάποιες κοινές συνήθειες: >>Παρκάρουµε τα αυτοκίνητα µακριά από την παραλία και δεν εµποδίζουµε την πρόσβαση στην παραλία >> Χρησιμοποιούμε σακούλες για τα απορρίµµατα, συµπεριλαµβανοµένων των χαρτιών υγείας που ξεθάβονται από ζώα >> Μαζεύουµε όλα τα δικά µας σκουπίδια αλλά και τα υπόλοιπα που βρίσκουµε. Χρησιµοποιούμε µια σακούλα φορεµένη στο χέρι µας για να κάνουµε τη διαδικασία λιγότερο δυσάρεστη.>> Καθορίζουµε πού είναι η «τουαλέτα» και σκάβουµε λάκκους τουλάχιστον 30 εκ. κάθε φορά ή τα σκεπάζουμε με άμμο παραλίας. Αντί για χαρτί τουαλέτας χρησιμοποιούμε νερό από την θάλασσα σε πλαστικό μπουκάλι >> Αποφεύγουμε τη χρήση έστω κα βιοδιασπώµενων σαµπουάν και σαπουνιών στο νερό γιατί έτσι ρυπαίνουμε τη θάλασσα, τη λίµνη, ή το ποτάµι.>> Είμαστε έτοιμοι να κατανοήσουμε τις ειδικές συνθήκες του μέρους στο οποίο βρισκόμαστε και να το προστατέψουμε με την παρουσία μας. Σεβόµαστε τη βλάστηση, και την πανίδα της περιοχής ανάλογα με τις συνθήκες. Για παράδειγμα σε περιοχές όπου φωλιάζει η καρέτα-καρέτα, η φωτιά µπορεί να αποπροσανατολίσει χελώνες και χελωνάκια ή σε μέρη με πικνή βλάστηση η φωτιά είναι επικίνδυνη>> Στήνουµε τη σκηνή αρκετά µέτρα µακριά από το κύµα ώστε να µην εµποδίζουµε τους υπόλοιπους κατασκηνωτές αλλά κυρίως να µην ενοχλούµε καβούρια, χελώνες, πουλιά.>> Τα έντοµα είναι κάτοικοι της περιοχής, εµείς είµαστε οι επισκέπτες. Τα αποφεύγουµε µε φυσικά εντοµοαπωθητικά, και µε το να κρατάµε κλειστή τη σήτα της σκηνής όλη μέρα >> Κατασκευάζουµε αυτοσχέδια τασάκια για τις γόπες µας και τις μαζεύουμε όλες.>> Δεν θεωρούμε το σημείο που μένουμε τσιφλίκι μας, δεν δημιουργούμε συνθήκες μόνιμης εγκατάστασης>> Σε περίπτωση επίθεσης της αστυνομίας ενωνόμαστε, εκφράζουμε συλλογική αλληλεγγύη και απαντάμε στις προκλήσεις όλοι μαζί>> Προσφέρουμε, μοιραζόμαστε, γνωριζόμαστε και δημιουργούμε, στο μέτρο του επιθυμητού, συνθήκες συλλογικής διαβίωσης με τους άλλους κατασκηνωτές>> Αφήνουµε το δάσος ή την παραλία όπως τη βρήκαµε, και αν γίνεται, πολύ καλύτερη >>
All beaches, seas, mountains, forests, rivers, skies of this world belong to all of us and all of us we will fight for our freedom to enjoy life without restrictions and without limitations.
The goal of the "Free Camping Movement" is to teach each other the Love, the Respect and Protection of Nature and to defend the absolute freedom of living in the infinite embracement of Earth and Sky.
We will travel with our favorite people, our best friends and our lovers everywhere, we will live free where ever we choose, we will protect the forests and beaches with our naked bodies … We will not ask permission from anyone to be free.
GUIDE OF FREE AND RESPONSIBLE CAMPING
How do we coexist harmoniously with other campers, local residents and nature itself? Standing against the organized restrictions on freedom, reduction of alive spaces of expression and the marginalization of the natural way of life, it is important for campers to learn living together by following, at least,
some common habits:>> We park our cars & bikes away from the beach and we do not obstruct the access to the beach>> We use bags for rubbish, including tissues as animals dig them out>> We gather all our rubbish and any other we find.
Wear a plastic bag in order to make the process less uncomfortable.>> Determine where the "toilet" is and dig holes at least 30 cm each time or cover them with sand.
Instead of toilet paper we use water from the sea in a plastic bottle>> We avoid the use of any shampoo and soap, even biodegradable, in the water because they pollute the sea, lake or river.>> We are ready to understand the specific circumstances of the place
where we are and to protect it with our presence.
We respect the flora and fauna of the region according to the natural conditions.
For example, in areas where the sea turtles lay their eggs, the fire can disorient them and their new born, or in areas of dense vegetation fire is dangerous>> We have the tent several meters from the waves so we do not obstruct the other campers but mainly
not to disturb crabs, turtles, birds.>> The insects are the residents of the area, we are the guests.
We avoid insects with natural repellents, and by keeping the tent zipped closed all day>> We make our own ashtrays for our cigarette butts and we collect them.>> We do not consider the spot we are staying in as our property, we do not create conditions for permanent settlement>> In the case of
police attack we unite, expressing collective solidarity and respond to the challenges all of us together>>We offer, share, meet each other and create, to the desired extent, conditions of collective living with the other campers>> Leave the forest or the beach as found, if possible,
much better>>
(Info in Greek language):
http://freecampgr.blogspot.com
for all summer Free Camping Caravan dates and info about the
http://voidnetwork.blogspot.com/2010/07/free-camping-movement-mobile-summer.html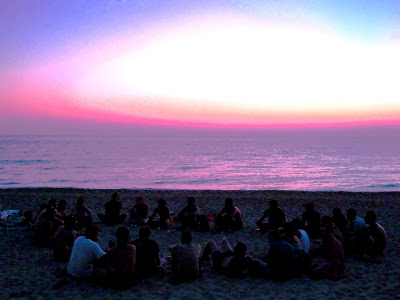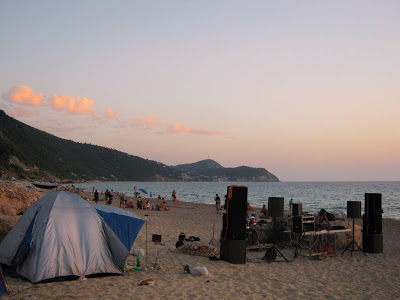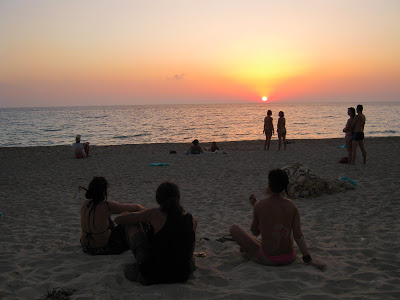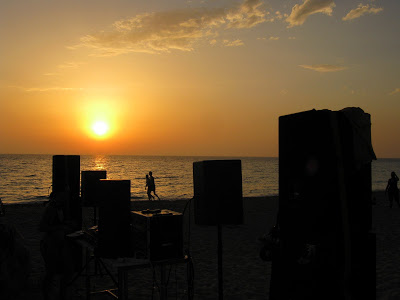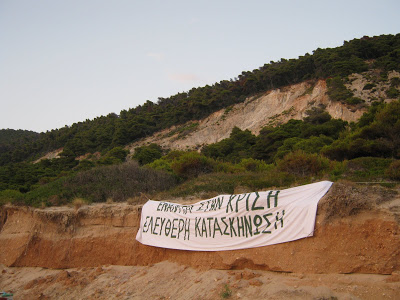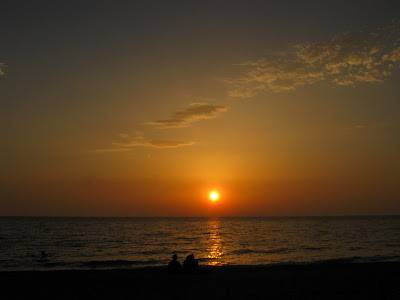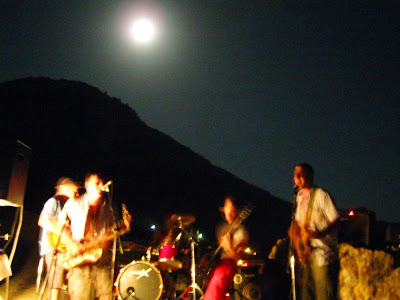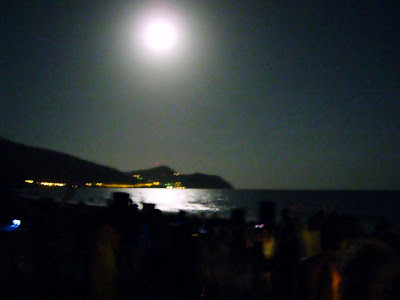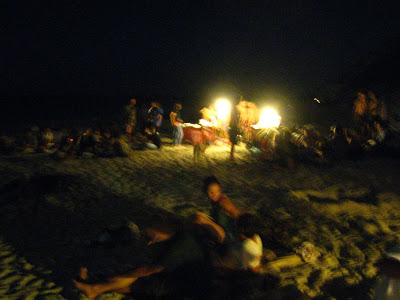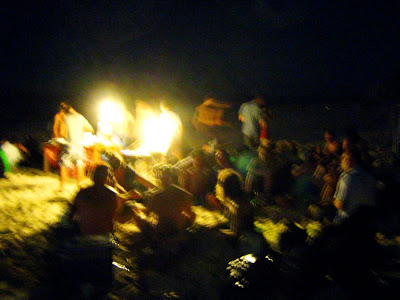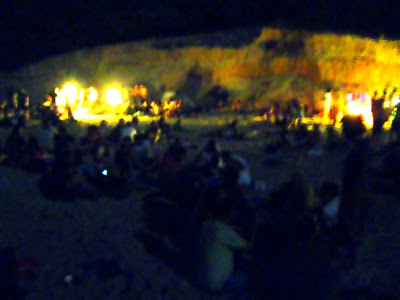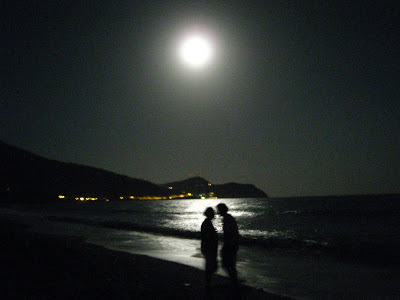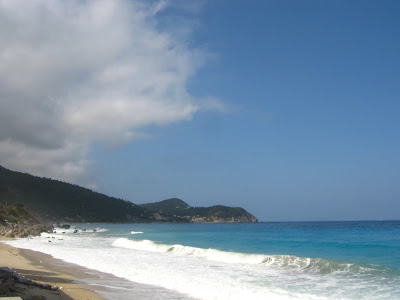 Event Report: More than 300 people attended the first summer gathering of Free Camping Movement in Lefkada. The wonderful beach of Pefkulia accomodated our efforts to meet, share experience and educate each other how to do free camping without destroying the nature. Most of the free campers of the area participated in the afternoon Free Camping Assembly and shared their visions for the expanding of our struggle to defend free camping in all Mediterranean sea and to find the way turn ourselves into defenders and protectors of the nature wherever we are, whoever we are, whatever we do all over the country. The concert that followed the assembly by Bad Movies and The Brilliants spread ska and melodic punk tunes at the beach bringing enthousiasm to all of us and especialy to the children of the beach that danced endlesly!… The psy-trance beach party that continued the night was romantic, sensual and psychedelic… The people were dancing and laying down all over the place sharing love and friendship under the moonlight. For all of us will be an unforgetable night that will empower our struggle…