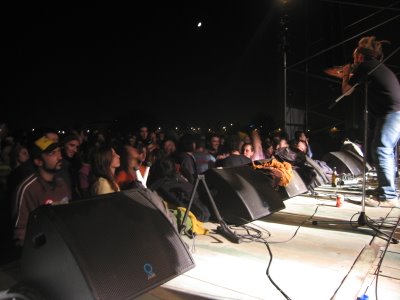 Prohibit the Prohibitions!
for Justfull, Humanistic and Effective "Drug Politics"
3 days NonStop Music Festival
5,6,7 May 2006
Ex-Hippodromus- Kalithea Athens Greece


on stage:
One Drop Fwd, Professor Skank, Locomondo, Doc, Paragga Sound System, Iraklis Mindphaser, Raman, Crystal Zero, d.j.Nikitas, Antiksoes Paragoges, Go Over 1000, Direct Connection, Boogie Base, White Noise Discipline, Aera Patera, Iristho En Parodo, Kako Sinapantima, The Dive, No Way Out, Echo Tatoo, Kilimantzaro, Figment-Insense, Funxion, d.j.Dura, Kostas Flying Agaric, Har-monez, D-Fer, Lee Sergic, Anna Mystic, THC Sound System, Rastayouth, Skitlab, Mistaoperator, Selah, Mashdown, WhoAmI, Reeko, A.H20, Rental, Chris, Highpno, Kernecolemode
multi media projections by Global Eye and Void Optical Arts Laboratories
supported by
www.iliosporoi.gr (Iliosporoi), www.voidnetworksociety.org (Void Network), Global Eye, Natural High, Eleu.si.na, 1StepForward, www.rastavibe.gr (Rastavibe), Alegre Grow Shop

More than 10.000 people participated in this "Global Marihuana March" event and they Legalized Ganja collectivily. They gave one to each other the power to go beyond fear, beyond the laws and to announce their difference and their views in the open public space…
Thank you All ! and….See You in Next Year.