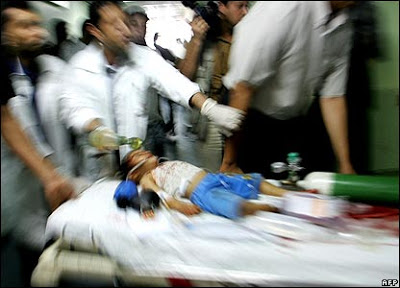 info comes from the International Solidarity Movement
http://www.palsolidarity.org/main/
gathered with the help of members from
Anarchists Against The Wall
http://www.awalls.org/about_aatw
Unedited footage:
Sunday 28th December 2008 –
pharmacy in Hi Alijnina, Rafah
https://rcpt.yousendit.com/638627350/e779b3fe56d949f81b46f8b930d272d8
Shortly before 7:00am on Sunday 28th December, yet another Israeli missile strike hit the residential neighbourhood of Hi Alijnina in the southern Gaza town of Rafah , just 50 metres down the street from where I'm staying. This time a pharmaceutical supplies store was targeted, totally destroying the building and causing severe damage to surrounding homes. Electricity lines were torn down during the blast and the street was littered with medicines. This footage was filmed within minutes of the attack as fire fighters battled to control the blaze. Shocked residents poured into the streets, some still wearing pyjamas.
Tuesday 30th December 2008 – homes in Hi Alijnina, Rafah
(part 1)
https://download.yousendit.com/bVlETkFoZEtubVZMWEE9PQ
(part 2)
https://download.yousendit.com/bVlBclVHRStUME9Ga1E9PQ
This footage was taken on Tuesday 30th December in a residential neighbourhood of Rafah called Hi Alijnina, following an Israeli air strike at approximately 5.00am local time. One house was totally destroyed and adjacent homes were severely damaged. A teenager was injured when his bedroom wall collapsed on him as he lay sleeping. Other civilians were also injured.
Thursday 1st January 2009 –
Shabora refugee camp, Rafah
Footage part 1
https://download.yousendit.com/bVlERE90NmNiV3dLSkE9PQ
Footage part 2
https://rcpt.yousendit.com/638528382/9ff54cbb6c909aef957e4a15af233385
Photos
https://rcpt.yousendit.com/638537028/26ee0a809163f154846465ffdc575a19
This material was taken on the morning of Thursday 1st January, following an attack on the Shabora refugee camp of Rafah, close to the city centre. This civilian neighbourhood (one of the most densely populated places in the Gaza Strip) was hit during an Israeli air strike shortly before midnight on Wednesday. The missile struck a small park without warning, destroying large numbers of surrounding homes and shops.
Dr. Abdullah Shehada, director of the Abu Yusef Al-Najar Hospital in Rafah, confirmed that a 33 year-old woman and a 22 year-old man were killed and nearly 60 people were injured, 18 of them woman and 16 of them children. Several elderly people were also injured, a couple of them seriously.
Witnessing the attack from Hi Alijnina, hundreds of metres away, an F-16 fighter jet was heard in the sky followed by a massive explosion. The wall of our house facing the direction of the attack shook and it seemed as though the windows were about to blow in. The wail of multiple ambulances was heard long afterwards.
Links to You Tube videos
27th December –
bombing of police station in Rafah
http://www.youtube.com/watch?v=EHD4UlcxwnM
28th December –
bombing of medical store in Rafah
http://www.youtube.com/watch?v=K2tDQmz69Gc
28th December –
multiple air strike on Rafah border
http://www.youtube.com/watch?v=U3wcKRLsrYo
28th December –
audio interview with Ewa Jasiewicz from the Free Gaza Movement http://www.youtube.com/watch?v=muLlFdcK3EA
29th December –
audio interview with Jenny Linnell from the International Solidarity Movement http://www.youtube.com/watch?v=9g74j4HMMSg