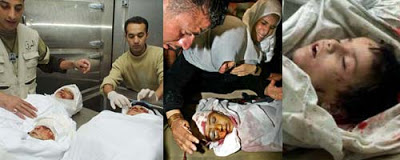 Gaza / Palestine News Network –
Reports indicate that 13 Palestinians from the same family were killed when Israeli forces targeted an eastern Gaza City house. The Palestinian Centre for Human Rights said this afternoon that Israeli forces in Gaza have killed 599 Palestinians.
Dr. Hassanein of the Ministry of Health said today that Israeli forces have killed 195 Palestinian children since the operation began and injured 2,730 people with the majority in serious condition.
A large contingent of Israeli ground forces have Gaza City encircled and last night the eastern side of town was heavily hit.
The Director of Ambulance and Emergency in the Palestinian Ministry of Health reports on Tuesday afternoon that the number of Palestinians killed has reached 578. In 24 hours Israeli forces have killed 40 people.
He also reports that the vast majority of the Palestinians killed over the past two days were women and children.
A member of Islamic Jihad was killed. On Monday 46 Palestinians were killed, including 17 children and seven women. Overnight Israeli forces killed 19 more, among them four from the Abu Jabara family.
This morning Saraya Al Quds reports two of its armed resistance members were killed in an ambush from sea near Deir Al Belah.
In the central Strip's Al Bureij Refugee Camp Israeli forces killed the Abu Jabara father and three of his sons. Three people from the Kahlout family were killed in a separate attack. Israeli forces attacked Gaza City's Al Zeitoun neighborhood and killed three people, while bombing the Yarmouk Market and killing four more Palestinians.
With hundreds of Israeli soldiers plowing into the city in tanks, armed resistance members from the leftist PFLP, DFLP, and from Islamic Jihad and Hamas attempted to stave them off in the city's Al Shajaiyeh neighborhood.
Israeli military sources say that three Israeli soldiers were killed and about 20 others were injured by "friendly fire."
Eyewitnesses report that Israeli shelling in the northern Gaza Strip caused dozens of homes to catch fire in Beit Hanoun, Beit Lahiya, and Gaza City's neighborhoods of Al Shajaiyeh, Al Tuffah and Zeitoun. The intense aerial bombardment has left the air clogged with smoke and untold victims. Israeli forces renewed the shelling of Mount Rayyes and Al Tuffah in Gaza City, while local sources also report that the southern Strip's Khan Younis and Rafah were hit with heavy ground invasions.
The Israeli shelling killed members of three families, most of whom are children and women whose homes are not exempt from being targeted. The number of Palestinians killed since the ground invasion has reached 110, including 50 children and 29 women. Since the beginning of the operation on 27 December, Israeli forces have killed 578 Palestinians and injured over 2,700.
for info about what is happening in Gaza search in Palestine News Network:
http://english.pnn.ps/index.php?option=com_content&task=view&id=4414&Itemid=1