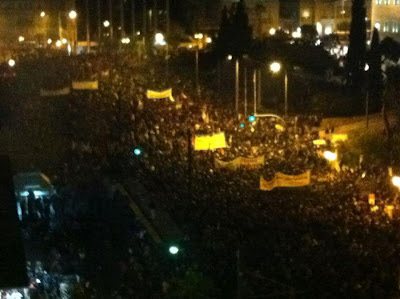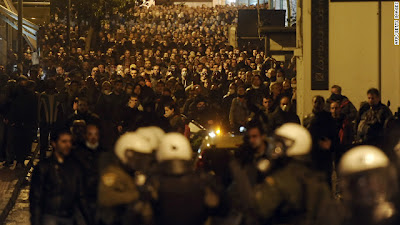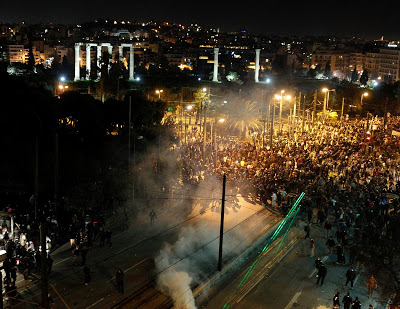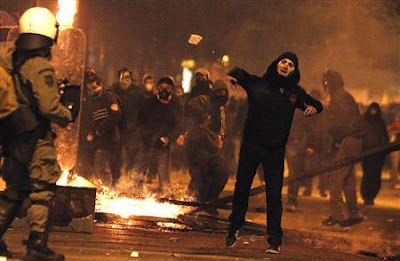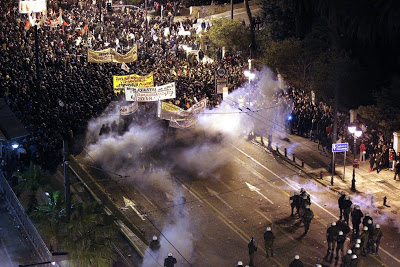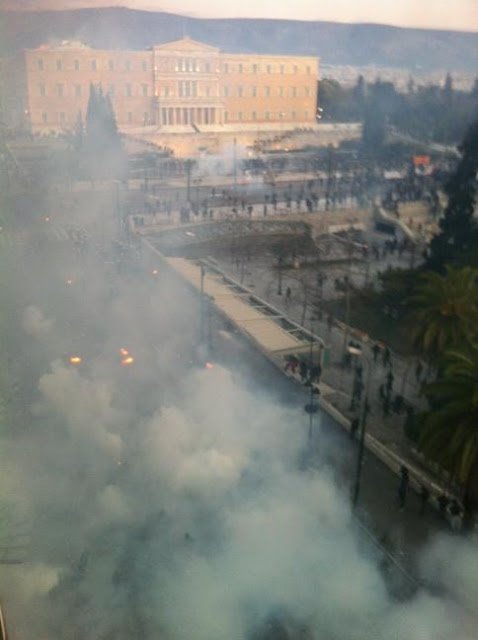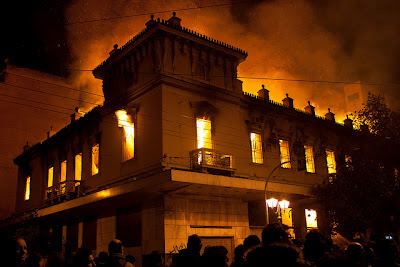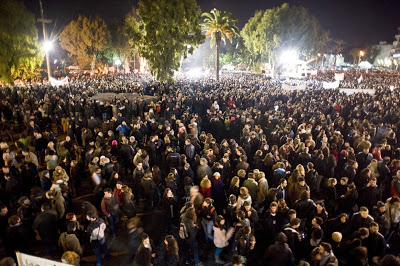 photo from Creta: thousands of people at all countryside cities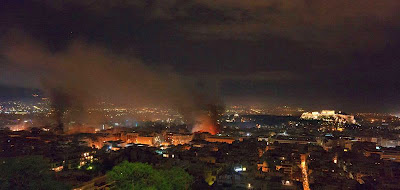 On Sunday, February 12, day of vote of Memorantum 2 of Economic and Financial Policies (MEFP) that outlines the economic and financial policies that the Greek Government and the Bank of Greece will implement during 2012‒2015 in the Parliament House of Greece, held in Athens one of the biggest protests in years. The clashes that broke out lasted until the early morning hours the next day and reminded that much of December 2008.
At the same time of voting of the measures in the Parliament, a crowd of 300.000 people that gathered was not put off by the chemicals and the suffocating atmosphere that was created by the police. The great majority of the people remained in the area and continued the fights around Syntagma / Parliament sq. and the surrounding streets for several hours. The media, as usual, reported extensively only the riots and disasters that took place, not making the slightest reference to the size of the protest or the violent methods of police repression.
Also, in all major cities of Greece similar reactions took place from people who attacked the political offices of those Parliament Members who voted these same hours the agreement of capitalists.
In Athens, police arrested 79 protesters and at the end of the day imprisoned 4 people, with unfounded categories and using as only excuse their participation in social struggles the last years. Immediately after the verdict of pre-trial imprisonment the police published in mainstream media four photographs of the arrested ones trying to search for informers who might know something about the actions of the demonstrators. Since then this act appeared that was the beginning of a new regular logic of police sharing photos in public with mainstream media as the same public pre-trial humiliation and violation of personality took place in the case of HIV positive prostitutes and drug users, characterized by the police as individuals indirectly dangerous to the public health of the society.
The propaganda that the state tries to built through all this story is that anyone that participates in a demonstration can find him/her self arrested and accused as "potential terrorist" without any real proof than his/her participation in the march
Now more than ever we express our solidarity with Evangelos K. and all the imprisoned ones from February 12, 2012 social revolt and we shout the old Greek slogan :
THE STATE IS THE ONLY TERRORIST!
NOT FORGET THE FIGHTERS AGAINST THE MEMORANDUM of Economic and Financial Policies (MEFP)
We ask for the immediate release of demonstrators in custody from 12 February 2012
Void Network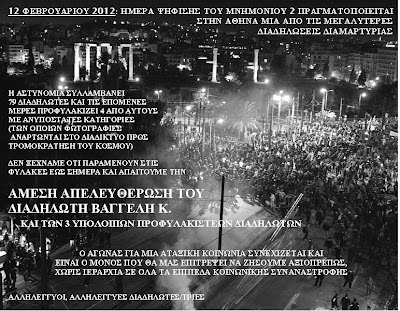 Την Κυριακή 12 Φεβρουαρίου,
ημέρα ψήφισης στη Βουλή
του Μνημονίου 2,
πραγματοποιήθηκε στο κέντρο
της Αθήνας μία
από τις μεγαλύτερες
διαμαρτυρίες
των τελευταίων ετών.
Οι συγκρούσεις που
ξέσπασαν διήρκεσαν
ως τις πρώτες πρωινές ώρες
της επόμενης μέρας
και θύμιζαν κατά πολύ εκείνες
του Δεκέμβρη το 2008.
Παράλληλα το μεγαλύτερο
πλήθος των συγκεντρωμένων
δεν πτοήθηκε από τα χημικά,
την αποπνικτική ατμόσφαιρα
που δημιουργήθηκε
και παρέμεινε στο Σύνταγμα
και τους γύρω δρόμους
για αρκετές ώρες.
Τα ΜΜΕ, όπως συνήθως,
αναφέρθηκαν εκτενώς
μόνο στα επεισόδια
και στις καταστροφές
που εξελίχθηκαν,
μην κάνοντας την παραμικρή
αναφορά για το μέγεθος
της διαμαρτυρίας αυτής
ή και στις βίαιες μεθόδους
καταστολής
των αστυνομικών δυνάμεων.
Επίσης,
σε όλες τις μεγάλες πόλεις
υπήρξαν αντίστοιχες αντιδράσεις από τον κόσμο
ο οποίος επιτέθηκε
στα πολιτικά γραφεία εκείνων
των βουλευτών
που την ίδια ώρα ψήφιζαν
υπέρ της συμφωνίας
των καπιταλιστών.
Στην Αθήνα,
η αστυνομία
προσήγαγε 79 περίπου
διαδηλωτές από τους
οποίους προφυλακίστηκαν
4 άτομα,
με ανυπόστατες κατηγορίες
Μάλιστα αμέσως μετά
τη δικαστική απόφαση
προφυλάκισης
των συλληφθέντων
η αστυνομία
προχώρησε σε δημοσιοποίηση
των στοιχείων τους
και στην ανάρτηση
φωτογραφιών των τεσσάρων
με τη λογική της αναζήτησης
χαφιέδων που ενδεχομένως να γνώριζαν κάτι για την δράση των συγκεκριμένων διαδηλωτών
.
Από ότι φάνηκε αργότερα
ήταν η απαρχή
μιας νέας τακτικής
στη λογική δημοσιοποίησης
φωτογραφιών όπως έγινε γνωστό και με ακόμα χειρότερο τρόπο στην περίπτωση δημοσιοποίησης των στοιχείων νοσούντων ιερόδουλων
και
χρηστών ναρκωτικών ουσιών,
χαρακτηρίζοντας τες εμμέσως ως επικίνδυνα άτομα για την κοινωνία
Έτσι για 1η φορά το κράτος
αντιμετωπίζει συλληφθέντς διαδηλωτές ώς επικίνδυνα άτομα
ουσιαστικά προκαταβάλλοντας
τη συμμετοχή όλων όσων διαδηλώνουν και τύχει να προσαχθούν
ως εν δυνάμει «τρομοκράτες».
είναι πιο επίκαιρο
από ποτέ
και να εκφράσουμε
την αλληλεγγύη μας
στον συναγωνιστή
προφυλακιστέο
της 12ης Φεβρουαρίου,
ΔΕΝ ΞΕΧΝΑΜΕ ΤΟΥΣ ΑΓΩΝΙΣΤΕΣ
ΤΩΝ ΠΡΟΦΥΛΑΚΙΣΤΕΩΝ ΔΙΑΔΗΛΩΤΩΝ
ΤΗΣ 12Ης ΦΕΒΡΟΥΑΡΙΟΥ 2012
http://voidnetwork.blogspot.com


+
you can read also here an article
by John Holloway for the same day:
http://voidnetwork.blogspot.gr/2012/02/saturday-18-february-for-greece-for.html