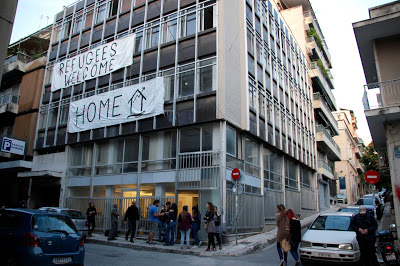 Occupied Accomodation Area for Refugees and Immigrants (Notara 26-Exarchia)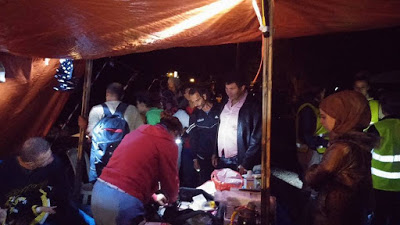 People's Solidarity Initiatives


REFUGEES WELCOME!
No One is Illegal
DUB UNITY
Reggae Dub | Hip Hop | Drum n Bass

SAT. 13/2/2016

Eλεύθερο Αυτοδιαχειριζόμενο
Θέατρο ΕΜΠΡΟΣ
OCCUPIED THEATRE EMBROS
(R.Palamidi 2 / Psiris area / athens)

starts at 23.00

dj booker (hip hop)
golden child (hip hop)
natural reaction ft junior x (dub roots)
dub riots ft . bluez < live > (dub roots -steppers)
insp – i – ration soundsystem (dub)
basik 1 (drum n bass)
sick booze (freestyle)
dj liahn (dub reggae)
selector sriddem (dub reggae)
marios ntavelis vs war (drum n bass)
mike (reggae)
selector piranhas (reggae)
camabooka (freestyle)
rollin breddaz (reggae roots)
lucien dubazz (dub reggae)
donnie dub (reggae dub)
mrs hcn (reggae)
selector nesta (reggae dub)

on the mic: mc bredda ahmet ali

ARTISTS exact timetable will be announced soon

To σύνολο των εσόδων θα διατεθεί για την οικονομική στήριξη της Κατάληψης Στέγης Προσφύγων / Μεταναστών (Νοταρά 26- Εξάρχεια) και της Λεσβιακής Πρωτοβουλίας Αλληλεγγύης σε Mετανάστες και Mετανάστριες που δραστηριοποιείται από τον Οκτώβρη στη Μυτιλήνη.

The whole amount of the event income will be donated for the support of Occupied Accomodation Area for Refugees and Immigrants (Notara 26-Exarchia) and the Lesbian Initiative for Immigrants that is active in the island Lesbos (Mytilini) from October 2015 until today

organized by Void Network
KENO ΔΙΚΤΥΟ
[Θεωρία, Ουτοπία, Συναίσθηση, Εφήμερες Τέχνες]
http://voidnetwork.blogspot.com

Αγωνιζόμαστε για έναν κόσμο που θα χωράει μέσα του όλους τους κόσμους! Όλοι εμείς, μουσικοί της υπόγειας σκηνής, καλλιτέχνες του δρόμου και παιδιά μιας πόλης που στέκεται ξένη και εχθρική προς κάθε τι διαφορετικό, καινούργιο και άγνωστο, ενώνουμε τις δυνάμεις μας για να υπερασπιστούμε την Ελευθερία, την Αξιοπρέπεια και την Αλληλεγγύη με όλους τους τρόπους που γνωρίζουμε: Την μουσική, τον χορό, την Αγάπη και το Σεβασμό προς όλους τους ανθρώπους αυτής της Γης χωρίς διαχωρισμούς χρώματος, καταγωγής, έθνους, φυλής ή φύλου. Ενώνουμε τις δυνάμεις μας για να φέρουμε κοντά όσους θέλουν να αγωνιστούν για έναν κόσμο χωρίς σύνορα και στρατόπεδα συγκέντρωσης, χωρίς ρατσισμό, χωρίς φασισμό, χωρίς καταναγκασμούς και σχέσεις κυριαρχίας.
Να σπάσουμε όλα τα σύνορα!

We are fighting for a world that will include all different worlds! All of us musicians of the underground scene, street performers and children of a city standing foreign and hostile to anything different, new or unknown, we are joining forces to defend Freedom, Dignity and Solidarity with all the ways we know :
The music, the dance, Love and Respect for all people of this Earth without separations on color, descent , ethnicity, race or gender. We are Joining forces to bring together those who want to fight for a world without borders and concentration camps, without racism, without fascism, without coercion and domination relations.
SMASH ALL BORDERS!