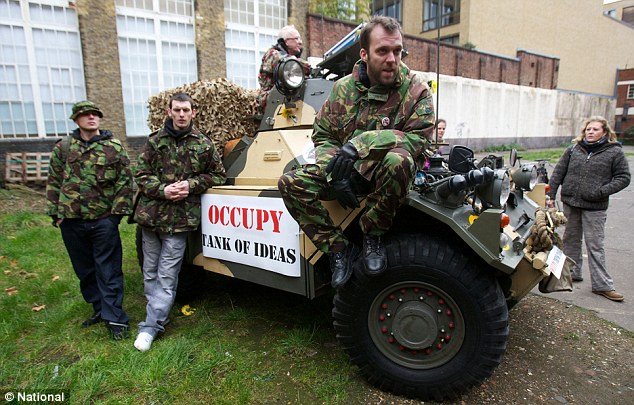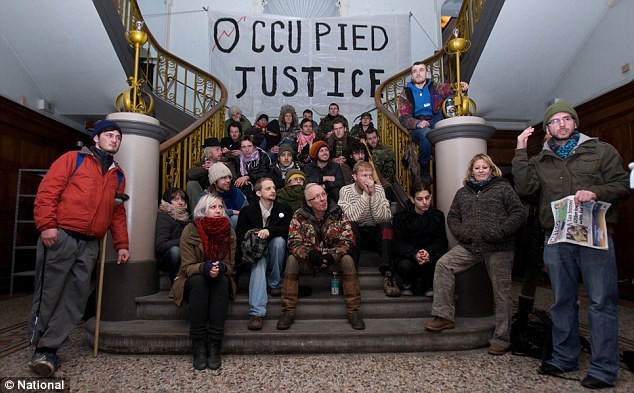 Around 50 Occupy protesters stormed a derelict court building in London today after driving there in a tank on a mission to bring 'those responsible' for the economic crisis to justice.
They have vowed to hold mock trials at Old Street Magistrates' Court for alleged corrupt politicians and greedy bankers using real solicitors before a retired judge.
The group also includes a new offshoot comprising ex-servicemen who call themselves 'Occupy veterans'.
Claiming squatters' rights after getting into Old Street Magistrates' Court

Vow to try 'the one per cent' they blame for economic crisis

Will use real solicitors as prosecution before a retired judge
Protester: 'Government failed to bring those responsible to justice, so we felt the people should do it instead.'
The protesters have already unfurled a giant 'Occupy Everywhere' banner along the roof of the courthouse, although legal notices put on doors establishing their 'rights' as squatters had been ripped down by noon.
They scribbled the names of bankers and politicians on chalkboards outside the court's cells.