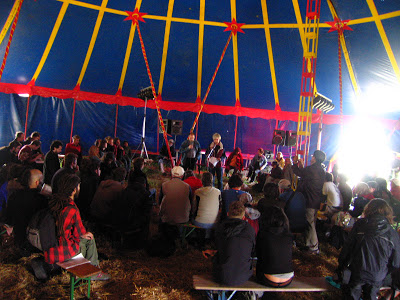 Total Freedom World Tour (Void Network, Global Eye and Natural High) participated for two days in the workshops organized by John Holloway and other Autonomists from India, Mexico, Italy, USA, England, Spain, Thailand, Sri Lanka, Germany and Kenya in the Anti G8 camp of Rostock with members of many different collectives and movements from all around the world.
Subjects as "the survival of the communities", "the relation or non relation with the state", "violence and non_violence"," repression, defense and confrontation with authority inside and outside of the movements" as also a big discussion about the open spaces, utopias, new ways of communal life took place in this 2 day meeting of activists.
The 7 minutes talk about the 17 years of Void Network by a member of our collective was received enthusiastically by all people.
Good contacts were established and there was so many fascinating different opinions making the experience really interesting, opening your ears to all the point of views and truly interesting to participate in such debates…