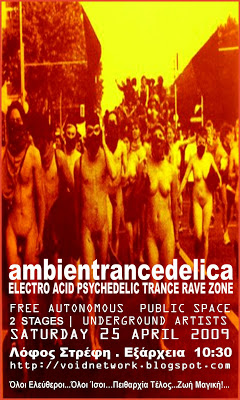 KEΝΟ ΔΙΚΤΥΟ
(Θεωρία, Ουτοπία, Συναίσθηση,
Εφήμερες Τέχνες)

VOID NETWORK
(Theory,Utopia,Empathy,Ephemeral Arts)
http://voidnetwork.blogspot.com
presents

AMBIENTRANCEDELICA
est.1993
longest non stop
rave celebration in the world
ELECTRO ACID PSYCHEDELIC TRANCE RAVE ZONE
FREE AUTONOMOUS PUBLIC SPACE

SATURDAY 25 APRIL 2009
LOFOS STREFI / EXARCHIA
(Strefis Hill / Athens)
2 STAGES:
main STAGE
>>Psychedelic Trance Zone
featuring
Progressive Psy-Trance,
Full-On and Neo-Goa Acid Sound
22.30-1.30
D.J. HIGHPNO
1.30-4.00
D.J. NIKITAS
D.J. LEANDROS
4.00-5.30
D.J. CRYSTAL ZERO
5.30-7.00
D.J. ENTON
7.00-end
NATURAL HIGH COLLECTIVE


+++
SECOND STAGE

Space Out Chill Out Area
featuring
Psychedelic Space Ambient,
Dubstep and Psy-Dub
22.30-1.00
D.J. D-FER
1.00-2.00
KINOMATIK
2.00-3.15
ARASH ATMAN
3.15-4.15
D.J. SISSY STARDUST
4.15-5.15
PSYBIENT
5.15- end
GAMALOGIC
+
DIGITAL TRIP
PARTY starts 10:30 in the night
THIS IS THE FIRST RAVE PARTY OF THIS YEAR, SPRING IS HERE, SUMMER IS COMING, FIGHT FOR YOUR RIGHT TO PARTY, LET'S ORGANIZE THE BEST NIGHTS OF OUR LIFE ALL TOGETHER, BE A PART OF IT, CARE FOR IT…LETS FALL IN LOVE!
ALL FREE, ALL EQUAL, END OF OBEDIENCE…
MAGICAL ECSTATIC LIFE
for contact, cultural activism, help, artists participation
to the events of Void Network:
voidinternational@gmail.com
Void Network
http://voidnetwork.blogspot.com
++
global movement info:
http://voidmirror.blogspot.com
++
Void Art, Multi Media, Videos from events
Void Optical Art Laboratory:
http://www.youtube.com/voidnetwork
It is foolish and simplistic to entrap ourselves in dead-ends or easy solutions. The multiple flowing realities of phenomena and the inheritance of the multiform and colorful insurrection of December are here to require new principles, new relationships, new attitudes and new visions, outlining routes that will break open the imaginings of the average person…We can implement at any time, and not in some vague future, our visions of Utopia … Many people are looking for these routes, through many different personal and collective journeys within occupied buildings, streets and parks in a city that is ready to explode. We felt the collective dream of reality laughing with us in the moments of our ecstatic revelation…crying in front of the social spectacle, realizing the delusive effects of it in our lives …
The exclusion that sovereignty tries to impose is not simply social and armed border walls. The dictatorship that the elites seek to impose is not a simple totalitarianism of intellect and bodies, but a totalitarianism against social collective spirit and conscious perception of each one of us!… « A closed structure » which seals in a golden sarcophagus all mental visions and ideas, the moments in vibrating time, our own lives, and anything among them that challenges the imposition of mass hypnosis and sovereignty… Fertile gestures, Companionship, Eros, Solidarity and Riots are our answers to the neo-barbaric modern world … The breaking of the web of constraints and illusions that shape the dominant culture is the principal way of resistance, among many others, that everyone should be inventing, so we walk away from the rough paths of dead-ends and dystopias of self-destruction, to find ourselves, one from within the other, the dawn, the waves, the forests and the cities of liberty.
Text: Void Network

the poster (43cmx68cm) published in 1000 copies and the 2 sides pamphlet (14cmx22cm) featuring the text in 12000 copies (velvet paper 115gr./offset printing)
Είναι ανόητο και τουλάχιστον απλοϊκό να αφήνουμε τους εαυτούς μας να οχυρώνονται πίσω από την πιθανότητα αδιέξοδων ή εύκολων λύσεων. Η πολλαπλά κινούμενη πραγματικότητα των φαινομένων με την ζωντανή κληρονομιά της, μετά το πολύμορφο και πολύχρωμο ξέσπασμα του Δεκέμβρη, είναι εδώ για να απαιτήσει νέες αρχές, νέες σχέσεις, νέα προτάγματα και νέες συμπεριφορές, χαράζοντας διαδρομές που θα διαρυγνύουν πολλαπλά το φαντασιακό του μέσου ανθρώπου…και θα μπορούν να υλοποιήσουν σε κάθε στιγμή, και όχι σε κάποιο αόριστο μέλλον, το πρόταγμα της Ουτοπίας…Πολλοί το αναζητάμε αυτό μέσα από πολλές διαφορετικές προσωπικές και συλλογικές διαδρομές, μέσα σε κατειλημμένα πάρκα και κτίρια, σε μια πόλη που είναι έτοιμη να εκραγεί. Υποψιαστήκαμε την κίνηση και την μορφή του συλλογικού ονείρου της πραγματικότητας γελώντας στις εκστατικές στιγμές της αποκάλυψης μας, δακρύζοντας απέναντι στην τραγική εξαπάτηση που υποβάλλει το κοινωνικό φαίνεσθαι στους εαυτούς μας…
Ο αποκλεισμός που επιχειρούν οι κυρίαρχοι να επιβάλλουν δεν είναι ένας αποκλεισμός απλά θωρακισμένων συνόρων και κοινωνικών τειχών. Η δικτατορία που επιχειρείται να επιβληθεί δεν είναι ένας απλός ολοκληρωτισμός της διάνοιας και των σωμάτων, αλλά ένας ολοκληρωτισμός εναντίον του κοινωνικού συλλογικού πνεύματος και της αντιληπτικής εποπτείας του καθενός μας!…«Μιά κλειστή δομή» που θα αποκλείει σε χρυσές νοητικές σαρκοφάγους όλους όσους τα οράματα και οι ιδέες τους, οι στιγμές μέσα στον παλλόμενο χρόνο τους, οι ίδιες οι ζωές τους, αμφισβητούν την επιβολή της μαζικής ύπνωσης και της κυριαρχίας…Η γόνιμη χειρονομία, η συντροφικότητα, η αλληλεγγύη, η σύγκρουση είναι οι απαντήσεις μας στο νεο-βαρβαρικό σύγχρονο κόσμο… Η διάτρηση του πλέγματος εξαναγκασμών και αυταπάτης, που μορφοποιεί τον κυρίαρχο πολιτισμό είναι ο κύριος τρόπος αντίστασης, ανάμεσα σε τόσους άλλους, που ο καθένας μας πρέπει να εφεύρει, ώστε φεύγοντας από τα τραχειά αδιέξοδα μονοπάτια της δυστοπίας και της αυτοκαταστροφής, να φτάσουμε, ο ένας μέσα από τον άλλο, χωρίς κανέναν πλέον αποκλεισμό, στην αυγή, τα κύματα, τα δάση και τις πολιτείες της ελευθερίας.

κείμενο: Κενό Δίκτυο

η αφίσσα (43εκ.χ 63εκ.) εκδόθηκε σε 1000 ανίτυπα και το φυλάδιο δύο όψεων (14εκ. χ 22εκ.) περιλαμβάνοντας το κείμενο σε 12000 ανίτυπα (τυπογραφείο/χαρτί βέλβετ 115γρ.)