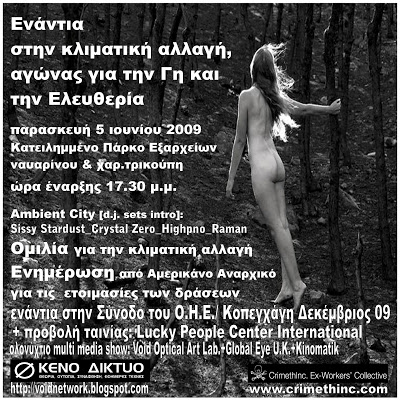 Κατειλημμένο Πάρκο Εξαρχείων
Raman
Kinomatik
Ομιλία

για την κλιματική αλλαγή
Eνημέρωση

από Αμερικάνο Αναρχικό
για τις ετοιμασίες των δράσεων
ενάντια στη σύνοδο του Ο.Η.Ε Κοπεγχάγη Δεκέμβριος 09
Lucky People Centre International
oλονύχτιο multimedia show

:
Global Eye [U.K.void network]
Against the climatic change,
fight for the Earth and Freedom
navarinu st. & trikupi st.



Lecture

for the climatic change
Briefing

by American Anarchist
for the preparations of actions
against the summit of U.N.
Lucky People Centre International
all night multimedia show

:
Global Eye [U.K.void network]
Όλη η ομορφιά της φύσης κρύβεται στον τρόμο και την απροσμέτρητη λύπη
όλων μας για την εξαφάνιση της. Oι υποδουλωμένοι επιστήμονες προσπαθούν,
χωρίς πολιτική συνείδηση να τραβήξουν την προσοχή του κόσμου σαν τρελοί
προφήτες στην άκρη του δρόμου. Οι άνθρωποι ανοιγοκλείνουν τις οικιακές
λάμπες σύμφωνα με τις διαταγές των πεφωτισμένων επιχειρηματιών «ενημέρωσης»,
εκφράζοντας μια αυξανόμενη ανησυχία, κατανοώντας όμως όλοι πια,
καθώς ο χρόνος τελειώνει ότι ο καπιταλισμός καταστρέφει την Γη και την ζωή μας.
Η φυσική ανενδοίαστη αγάπη όλων μας για τα σύννεφα, τα δάση, τις θάλασσες
και τα ζώα της Γης κρύβεται στα θλιμμένα μάτια μας και στην φρίκη
που εκφράζεται από το σιωπηλό ουρλιαχτό μας.
Υπάρχουν πολλοί που θα κερδίσουν δισεκατομμύρια ευρώ πάνω στις
στάχτες από τα καμένα δάση, τα μολυσμένα ποτάμια, τον δηλητηριασμένο ουρανό
όπως κερδίζουν καθημερινά πάνω στις στάχτες της μίζερης ζωής μας.
Η έρημος μέρα με την ημέρα απλώνεται στις καρδιές μας όπως απλώνεται
και στον κόσμο μας. Ο κόσμος μας ούτως ή άλλως δυστυχώς είναι
πολύ περιορισμένος καθώς χανόμαστε μέσα στις ατομικές και τις συλλογικές
μας αυταπάτες .Οι τεράστιοι δρόμοι, τα ακριβά αυτοκίνητα, τα πολυκαταστήματα,
τα χλιδάτα ξενοδοχεία και τα ακριβά εστιατόρια είναι μέρος της ερήμου.
Τα πολιτικά κόμματα, οι φενακισμοί της αγοράς και ο υποδουλωμένος τρόπος
ζωής μας δεν μπορούν να μας οδηγήσουν έξω από την έρημο γιατί είναι
και αυτά μέρη της ερήμου. Θα υπάρξουν πολλοί ακόμα κυβερνήτες και χιλιάδες
μικροί-μεγάλοι επιχειρηματίες που θα πλουτίζουν από την έρημο και θα κυβερνούν
με την δύναμη της υποταγής μας την έρημο της ζωής μας
Όταν πολεμάμε-πολεμάμε για τις ζωές μας.
Σκοπός του αγώνα μας είναι να πάρουμε τη ζωή μας πίσω από όλους αυτούς
που μας την στέρησαν. Κάθε ανάγκη μας και κάθε επιθυμία μας όπως είναι αφορμή
κέρδους είναι και αφορμή μιας μάχης.
Η κριτική σκέψη, το πνεύμα αμφισβήτησης και η ουσιαστική άρνηση υπακοής
στο παραμύθι που μας πουλά η κυρίαρχη κουλτούρα είναι τα όπλα μας.
Η αυτόνομη αδιαμεσολάβητη δράση και η αυτο-οργάνωση των αυθόρμητων
κοινωνικών πρωτοβουλιών μας είναι η υγιής αναπνοή μας
Κοσμο-Πολιτικής Συνείδηδησης
All beauty of nature is hidden in the terror and the uncountable
sorrow of all of us for its disappearance. The enslaved scientists try,
without political conscience to attract the attention of the crowd
as mad prophets standing in the end of street. The «citizens» turn
on and turn off their domestic light bulbs according to the orders
of the enlightened owners of mass media, expressing an increasing concern,
comprehending all of us , while the time finish that capitalism destroys
the planet as also our lives. The natural great love of all of us
for the clouds, the forests, the oceans and the animals of the Earth
is hidden in our sad eyes and in the horror that is expressed from our
silent howl. There are existing many people that will gain billions
of Euros on the ashes of the burned forests, the destroyed rivers and
the poisoned sky, as they gain billions day by day on the ashes of our
miserable life. The desert day after day unfolds in our hearts as it
unfolds also in our world.
Our world in any case unfortunately is so limited,
as we live trapped in our individual and collective delusions.
The enormous streets, the expensive cars, the vast super markets,
the luxurious hotels and restaurants are all part of the desert.
The political parties, the elections,
the hallucinations of the market, the education, sciences and our
trends of enslaved every day life cannot lead us outside from the
desert because all these are also parts of the desert.
They will still exist many ridiculous governors and thousands small
or big businessmen that will become rich from the desert and will govern,
through the power of our submission, the desert of our life.
we are fighting for our lives .
The aim of our struggle is to take our life back from all those
Each one of our needs and each one of our wishes…
as it is a reason of profit is also a battle-field .
The critical thought, the spirit of dissent and the
essential refusal of obedience in the fairy-tale that
the sovereign culture sell's us are our weapons.
The autonomous direct action and the self-organization
of our spontaneous social initiatives are our healthy breathing.
"Labratory of Kosmo-Political Consciousness"