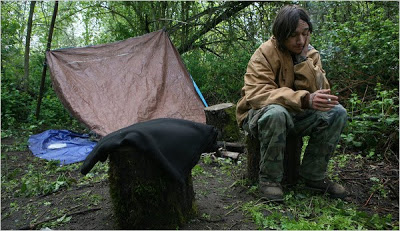 Clinton Anchors, 18, in Medford, Ore.,
has been on his own, living in the streets and camping in the woods
since he was 12.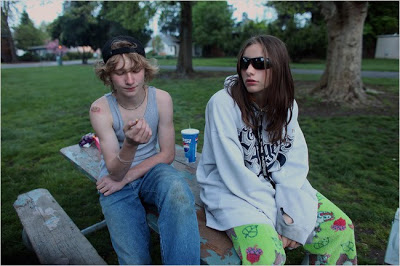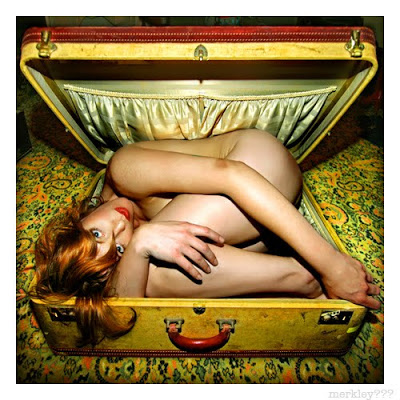 Running in the Shadows
Children on Their Own
This is the first of two articles originaly published in New York Times on the growing number of young runaways in the United States, exploring how they survive.
Running in the Shadows
Children on Their Own
By IAN URBINA
Published in N.Y. Times: October 25, 2009 MEDFORD, Ore. — Dressed in soaked green pajamas, Betty Snyder, 14, huddled under a cold drizzle at the city park as several older boys decided what to do with her.
Betty said she had run away from home a week earlier after a violent argument with her mother. Shivering and sullen-faced, she vowed that she was not going to sleep by herself again behind the hedges downtown, where older homeless men and methamphetamine addicts might find her.
The boys were also runaways. But unlike them, Betty said, she had been reported missing to the police. That meant that if the boys let her stay overnight in their hidden tent encampment by the freeway, they risked being arrested for harboring a fugitive.
"We keep running into this," said one of the boys, Clinton Anchors, 18. Over the past year, he said, he and five other teenagers living together on the streets had taken under their wings no fewer than 20 children — some as young as 12 — and taught them how to avoid predators and the police, survive the cold and find food.
"We always first try to send them home," said Clinton, who himself ran away from home at 12. "But a lot of times they won't go, because things are really bad there. We basically become their new family."
Over the past two years, government officials and experts have seen an increasing number of children leave home for life on the streets, including many under 13. Foreclosures, layoffs, rising food and fuel prices and inadequate supplies of low-cost housing have stretched families to the extreme, and those pressures have trickled down to teenagers and preteens.
Federal studies and experts in the field have estimated that at least 1.6 million juveniles run away or are thrown out of their homes annually. But most of those return home within a week, and the government does not conduct a comprehensive or current count.
The best measure of the problem may be the number of contacts with runaways that federally-financed outreach programs make, which rose to 761,000 in 2008 from 550,000 in 2002, when current methods of counting began. (The number fell in 2007, but rose sharply again last year, and the number of federal outreach programs has been fairly steady throughout the period.)
Too young to get a hotel room, sign a lease or in many cases hold a job, young runaways are increasingly surviving by selling drugs, panhandling or engaging in prostitution, according to the National Runaway Switchboard, the federally-financed national hot line created in 1974. Legitimate employment was hard to find in the summer of 2009; the Labor Department said fewer than 30 percent of teenagers had jobs.
In more than 50 interviews over 11 months, teenagers living on their own in eight states told of a harrowing existence that in many cases involved sleeping in abandoned buildings, couch-surfing among friends and relatives or camping on riverbanks and in parks after fleeing or being kicked out by families in financial crisis.
The runaways spend much of their time avoiding the authorities because they assume the officials are trying to send them home. But most often the police are not looking for them as missing-person cases at all, just responding to complaints about loitering or menacing. In fact, federal data indicate that usually no one is looking for the runaways, either because parents have not reported them missing or the police have mishandled the reports.
In Adrian, Mich., near Detroit, a 16-year-old boy was secretly living alone in his mother's apartment, though all the utilities had been turned off after she was arrested and jailed for violating her parole by bouncing a check at a grocery store.
In Huntington, W.Va., Steven White, 15, said that after casing a 24-hour Wal-Mart to see what time each night the cleaning crew finished its rounds, he began sleeping in a store restroom.
"You're basically on the lam," said Steven, who said he had left home because of physical abuse that increased after his father lost his job this year. "But you're a kid, so it's pretty hard to hide."

Between Legal and Illegal
Survival on the streets of Medford, a city of 76,000 in southwest Oregon, requires runaways to walk a fine line between legal and illegal activity, as a few days with a group of them showed. Even as they sought help from social service organizations, they guarded their freedom jealously.
Petulant and street savvy, they were children nonetheless. One girl said she used a butter knife and a library card to break into vacant houses. But after she began living in one of them, she ate dry cereal for dinner for weeks because she did not realize that she could use the microwave to boil water for Ramen noodles. Another girl was childlike enough to suck her thumb, but dangerous enough to carry a switchblade.
They camped in restricted areas, occasionally shoplifted and regularly smoked marijuana. But they stayed away from harder drugs or drug dealing, and the older teenagers fiercely protected the younger runaways from sexual or other physical threats.
In waking hours, members of the group split their time among a park, a pool hall and a video-game arcade, sharing cigarettes. When in need, they sometimes barter: a sleeveless jacket for a blanket, peanut butter for extra lighter fluid to start campfires on soggy nights.
Betty Snyder, the newcomer in the park, said she had bitten her mother in a recent fight. She said she often refused to do household chores, which prompted heated arguments.
"I'm just tired of it all, and I don't want to be in my house anymore," she said, explaining why she had run away. "One month there is money, and the next month there is none. One day, she is taking it out on me and hitting me, and the next day she is ignoring me. It's more stable out here."
Members of the group said they sometimes made money by picking parking meters or sitting in front of parking lots, pretending to be the attendant after the real one leaves. When things get really desperate, they said, they climb into public fountains to fish out coins late at night. On cold nights, they hide in public libraries or schools after closing time to sleep.
Many of the runaways said they had fled family conflicts or the strain of their parents' alcohol or drug abuse. Others said they left simply because they did not want to go to school or live by their parents' rules.
"I can survive fine out here," Betty said as she brandished a switchblade she pulled from her dirty sweatshirt pocket. At a nearby picnic table was part of the world she and the others were trying to avoid: a man with swastikas tattooed on his neck and an older homeless woman with rotted teeth, holding a pit bull named Diablo.
But Betty and another 14-year-old, seeming not to notice, went off to play on a park swing.
Around the country, outreach workers and city officials say they have been overwhelmed with requests for help from young people in desperate straits.
In Berks County, Pa., the shortage of beds for runaways has led county officials to consider paying stipends to families willing to offer their couches. At drop-in centers across the country, social workers describe how runaways regularly line up when they know the food pantry is being restocked.
In Chicago, city transit workers will soon be trained to help the runaways and other young people they have been finding in increasing numbers, trying to escape the cold or heat by riding endlessly on buses and trains.
"Several times a month we're seeing kids being left by parents who say they can't afford them anymore," said Mary Ferrell, director of the Maslow Project, a resource center for homeless children and families in Medford. With fewer jobs available, teenagers are less able to help their families financially. Relatives and family friends are less likely to take them in.
While federal officials say homelessness over all is expected to rise 10 percent to 20 percent this year, a federal survey of schools showed a 40 percent increase in the number of juveniles living on their own last year, more than double the number in 2003.
At the same time, however, many financially troubled states began sharply cutting social services last year. Though President Obama's $787 billion economic stimulus package includes $1.5 billion to address the problem of homelessness, state officials and youth advocates say that almost all of that money will go toward homeless families, not unaccompanied youths.
"As a society, we can pay a dollar to deal with these kids when they first run away, or 20 times that in a matter of years when they become the adult homeless or incarcerated population," said Barbara Duffield, policy director for the National Association for the Education of Homeless Children and Youth.
'You Traveling Alone?'
Maureen Blaha, executive director of the National Runaway Switchboard, said that while most runaways, like those in Medford, opt to stay in their hometowns, some venture farther away and face greater dangers. The farther they get from home and the longer they stay out, the less money they have and the more likely they are to take risks with people they have just met, Ms. Blaha said.
"A lot of small-town kids figure they can go to Chicago, San Francisco or New York because they can disappear there," she said.
Martin Jaycard, a Port Authority police officer in New York, sees himself as a last line of defense in preventing that from happening.
Dressed in scraggly blue jeans and an untucked open-collar shirt, Officer Jaycard, a seven-year police veteran, is part of the Port Authority's Youth Services Unit. His job is to catch runaways as they pass through the Port Authority Bus Terminal, the nation's busiest.
"You're the last person these kids want to see," he said, estimating that his three-officer unit stops at least one runaway a day at the terminal.
Pausing to look at a girl waiting for a bus to Salt Lake City, Officer Jaycard noticed a nervous look on her face and the overstuffed suitcases that hinted more at a life change than a brief stay.
"Hey, how's it going?" he said to the girl, gently, as he pulled a badge hanging around his neck from under his shirt. "You traveling alone?"
"Yes," she replied, without a glimmer of nervousness. "I'm 18," she quickly added before being asked.
But the girl carried no identification. The only phone number she could produce for someone who could verify her age was disconnected. And after noticing that the last name she gave was different from the one on her bags, the officer took her upstairs to the police station.
When she arrived, she burst into tears.
"Please, I'm begging you not to send me home," she pleaded as she sobbed into her hands. While listening, Officer Jaycard and the social worker on duty began contacting city officials to investigate her situation, and found her a place at a city shelter. "You have no idea what my father will do to me for having tried to run away," she said, describing severe beatings at home and threats to kill her if she ever tried to leave.
The girl turned out to be 14 years old, from Queens. Shaking her head in frustration, she added, "I should have just waited outside the terminal and no one would have known I was missing."
In all likelihood, she was right.
Invisible Names
Lacking the training or the expertise to spot runaways, most police officers would not have stopped the girl waiting for the bus. Even if they had, her name probably would not have been listed in the federal database called the National Crime Information Center, or N.C.I.C., which among other things tracks missing people.
Federal statistics indicate that in more than three-quarters of runaway cases, parents or caretakers have not reported the child missing, often because they are angry about a fight or would simply prefer to see a problem child leave the house. Experts say some parents fear that involving the police will get them or their children into trouble or put their custody at risk.
And in 16 percent of cases, the local police failed to enter the information into the federal database, as required under federal law, according to a review of federal data by The New York Times.
Among the 61,452 names that were reported to the National Center for Missing and Exploited Children from January 2004 to January 2009, there were about 9,625 instances involving children whose missing-persons reports were not entered into the N.C.I.C., according to the review by The Times. If the names are not in the national database, then only local police agencies know whom to look for.
Police officials give various reasons for not entering the data. The software is old and cumbersome, they say, or they have limited resources and need to prioritize their time. In many cases, the police said, they do not take runaway reports as seriously as abductions, in part because runaways are often fleeing family problems. The police also say that entering every report into the federal database could make a city's situation appear to be more of a problem than it is.
But in 267 of the cases around the nation for which the police did not enter a report into the database, the children remain missing. In 58, they were found dead.
"If no one knows they're gone, who is going to look for them?" said Tray Williams, a spokesman for the Louisiana Office of Child Services, whose job it was to take care of 17-year-old Cleveland Randall.
On Feb. 6, Cleveland ran away from his foster care center in New Orleans and took a bus to Mississippi. His social workers reported him missing, but the New Orleans police failed to enter the report into the N.C.I.C. Ten days later, Cleveland was found shot to death in Avondale, La.
"These kids might as well be invisible if they aren't in N.C.I.C.," said Ernie Allen, the director of the National Center for Missing and Exploited Children.
Paradise by Interstate 5
Invisibility, many of the runaways in Medford say, is just what they want.
By midnight, the group decided it was late enough for them to leave the pool hall and to move around the city discreetly. So they went their separate ways.
Alex Molnar, 18, took the back alleys to a 24-hour laundry to sleep under the folding tables. If people were still using the machines, he planned on locking himself in the restroom, placing a sign on the front saying "Out of Service."
On the other side of the city, Alex Hughes, 16, took side streets to a secret clearing along Interstate 5.
On colder nights, he and Clinton Anchors have built a fire in a long shallow trench, eventually covering it with dirt to create a heated mound where they could put their blankets.
Building a lean-to with a tarp and sticks, Clinton lifted his voice above the roar of the tractor-trailers barreling by just feet away. He said they called the spot "paradise" because the police rarely checked for them there.
"Even if they do, Betty is not with us, so that's good," he added, explaining that she had found a friend willing to lend her couch for the night. "One less thing to worry about."
the article appeared originaly in N.Y. Times: http://www.nytimes.com/2009/10/26/us/26runaway.html?pagewanted=all
You can read the second part of the articles about Homeless children and sex trade in U.S.A. here:
http://www.nytimes.com/2009/10/27/us/27runaways.html?_r=1