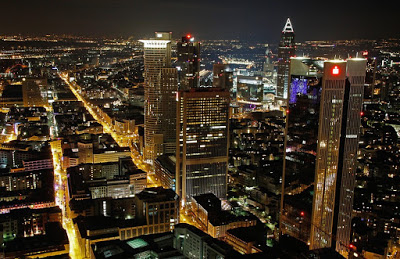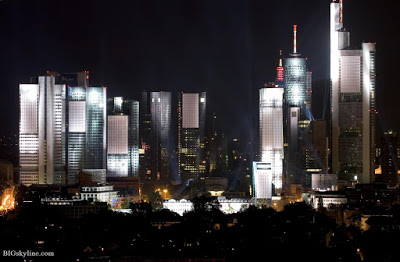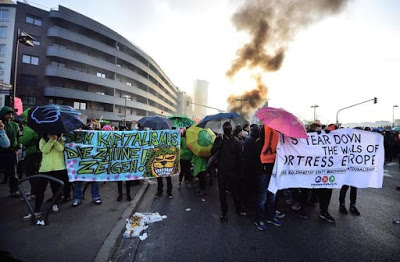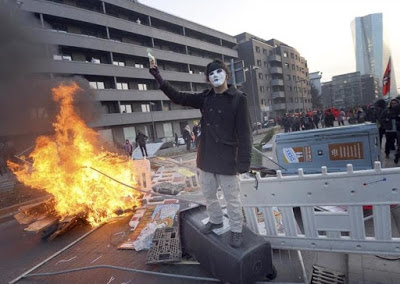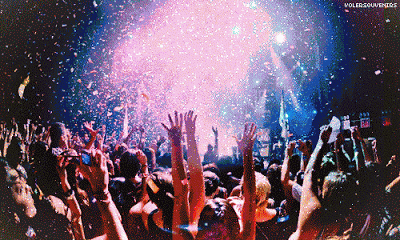 Sa. 31.10.2015

CROSSING BRIDGES 2015 * 
Party and Politics, Participation, 
Intercultural Exchange, Art and Culture

Zentrum Klapperfeld, 
Klapperfeldstraße 5, 
Frankfurt am Main

Program:

14:00: 
ReCreate Public Space *
Open Street Action, Subversive Sounds and Flashmob
Meeting point: Klapperfeld
– Participate 😉 –
16:15:
Temper and movement of an activist
Interactive Body Movement Workshop with Dada Vecerin

17:00:
Social Revolt and Radical Movements in Greece Now!
Open discussion with members of Void Network from Athens.
Moderation: Tasos Sagris (co-editor of the book "We are an image from the future, the Greek Revolt of 2008"), Sissy Doutsiou (activist, poet, actress) and Yiannis Raouzaios (poet, journalist).

18:30:
Exhibition and Guided Tour through the former prison Klapperfeld

19:00 and all around:
– VolXküche
– Fireshow in the yard
– The Fantastic Fauns performance by aFairMix
– Alice Project info booth on drugs, culture and change
– Cinema Area / Films & information
including show of:
Let's Not Live Like Slaves 
Film-Documentation by Yannis Youlountas
on Resistance in terms of Self-organization, Solidarity and Autonomy.
www.x-pressed.org/?xpd_article=lets-not-live-like-slaves

20:00:
OXI – Does No mean No?
Information & open discussion about 
Revolt and Resignation in Greece and other countries 
with activists from Greece and Martin Glasenapp (Blockupy)
Moderation: Dada Vecerin & Wolfgang Sterneck

22:00:
Faust hoch 3 
Theatre performance by Niklas

23:00 
Armed Words
Void-Network : Multi Media Poetry Action with Sissy Doutsiou, Tasos Sagris, Yiannis Raouzaios 
Sound by Crystal Zero & Sissy Stardust – Visuals by Void Optical Art Laboratory

23:00: 
Party – Rhythm and Change:
DJs, Live acts, Chills, 
Performances, Visuals:
Sissy Stardust,
Raman 
Crystal Zero
(Void Network / Athens)
Omni-Tech 
(Crystallin Music / Crete), 
Yanniz 
(Erdlichter / Athens), 
Yohannes, 
Sonnenzyklus 
Lava 303 Live 
(Crystallin Music / Playground)
Stefan Ludley 
(Psylofant / FfM) 
FlipFlop (FfM) & friends

Visuals by Optikos, 
Global Eye (London Void Network) 
& Void Optical Art Laboratory 

– This event is a collaborative project of a network collective of activists and artists from Germany and Greece. 

More information:
http://voidnetwork.blogspot.de 
* www.theplayground.de 
* www.alice-project.de 
* www.sterneck.net 
* www.faitesvotrejeu.tk 
* www.crystallin.de 
* www.psylofant.de 
* www.rhein-main-psy.de * …..

– Refugees Welcome!

– Participate!

– This is a work in progress 😉 – We (incl. YOU) all create it together! 

– We ask you to bring a plastic or cloth bag for your jacket/coat/.. to leave it at our guarded cloakroom.
It might be cold outside, but not inside. 😉

– Entry: Free / Solidarity Donation

-The monetary surplus of this event will be used for refugee projects in and around Frankfurt.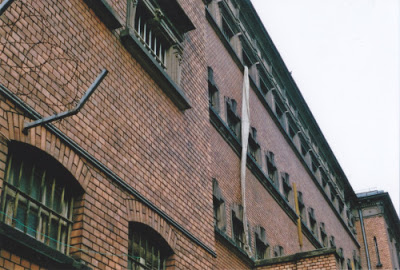 – Info on Klapperfeld:

The former police prison Klapperfeld in the inner-city of Frankfurt am Main was erected in 1886 and throughout its 115 years of existence was exclusively used for the repression and oppression of people.
The initiative 'Faites votre jeu!', which was founded as a autonomous, self-organizing cultural and political initiative, moved into the former prison at the end of April 2009, opening the building to the general public with numerous events, projects and an exhibition gallery. The 'working group history' is part of the initiative and it dedicates its work to a critical political approach to the prison's past.
www.klapperfeld.de/en


…. Crossing Bridges ….


– * –


The night of 31 October in all western lands is celebrated 
as a night where the frontiers between the enforced reality 
and our real desires are abolished. 
This is a night against all kinds of normalities 
where the frozen social roles derive. 

The children become dangerous, 
the poor come out in the streets, 
the rich ones hide themselves terrified under their bed-covers, 
lovers express their uncontrollable sexual passions out in public.

Night of the Dead is also a night of memory 
for all those lost ones, 
all those that left their lives 
without succeeding to materialize their dreams, 
who left their plans unfinished 
and their desires unfulfilled.

Also, it is a long drunken wild late night celebration, 
an awaken night for all those living imprisoned, 
all these living dead buried in deluded needs 
and fake desires. 
This is a night of magic 
where everything we were dreaming of for a long time 
NOW we have to put into practice. 

The days of our apathy and fear are over. 
In the deep darkness you can hear a muffled howl:

  THEY HAVE THE AUTHORITY, WE HAVE THE NIGHT! 

VOID NETWORK

http://voidnetwork.blogspot.com/
www.theplayground.de/crossingbridges2015
www.facebook.com/events/463658263842972
http://voidnetwork.blogspot.com