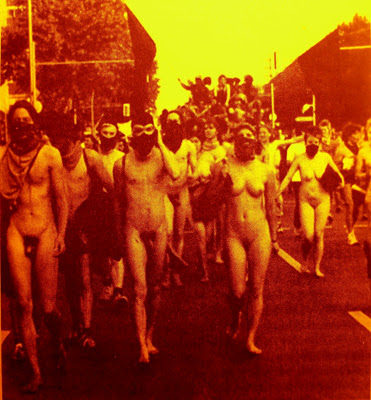 Με λύπη μας σας ανακοινώνουμε ότι η εκδήλωση του Κενού Δικτύου
με την επονομασία
«24 ΩΡΕΣ ΣΤΟ ΚΕΝΤΡΟ ΤΗΣ ΠΟΛΗΣ»
η οποία επρόκειτο να
διοργανωθεί στην
πλατεία Ομονοίας
το Σάββατο 20 Οκτωβρίου 2007
ΑΠΑΓΟΡΕΥΘΗΚΕ
ΑΠΟ ΤΟ ΥΠΟΥΡΓΕΙΟ
ΧΩΡΟΤΑΞΙΑΣ, ΟΙΚΙΣΜΟΥ
ΚΑΙ ΚΑΤΑΣΤΡΟΦΗΣ ΤΟΥ ΠΕΡΙΒΑΛΛΟΝΤΟΣ
με την γελοία δικαιολογία
«πιθανής κατάρρευσης της πλατείας Ομονοίας
στο υπόγειο του Μετρό λόγω της αναμενόμενης
μεγάλης προσέλευσης κόσμου στην επιφάνεια της πλατείας.»
(…λόγος απαγόρευσης που αν δεν είναι μια ψεύτικη φτηνή δικαιολογία τότε ο κίνδυνος για την καθημερινότητα των πολιτών και οι ευθύνες του υπουργείου
είναι τεράστιες)
Φυσικά κανένας δεν χρησιμοποίησε αυτή την φτηνή δικαιολογία όταν οι εθνικιστές
συνέρρεαν κατά χιλιάδες να ζητωκραυγάσουν για τις «ένδοξες στιγμές» της εθνικής ποδοσφαίρου, όταν οι φασίστες μαχαίρωναν τους Αλβανούς μετανάστες στη πλατεία και οι πρεζέμποροι έβγαζαν εκατομμύρια πουλώντας ακριβά την ανάγκη στους αρρώστους , όταν τα πολιτικοποιημένα πρόβατα συνέρρεαν κατά χιλιάδες για τις εμποροπανηγύρεις των πολιτικών κομμάτων, όταν η κυρίαρχη κουλτούρα γιόρταζε τους διάφορους «επίσημους» εορτασμούς του life style και της ασημαντότητας…
Έτσι λοιπόν και το Σάββατο 20 Οκτωβρίου 2007 η Ομόνοια θα παραμείνει μια γκρίζα, άχαρη, νεκρή ζώνη εμπορίου και κατανάλωσης, για άλλη μια μέρα η Ομόνοια θα είναι όπως την ονειρεύτηκαν οι κυβερνήτες μας και εμείς για άλλη μια μέρα θα είμαστε κρυμμένοι πίσω από τα όρια της συνηθισμένης μας ζωής, φυλακισμένοι να ζούμε μια ζωή…έτσι όπως την ονειρεύτηκαν οι κυβερνήτες μας.
Γνωρίζουμε όμως ότι
τα όνειρα μας είναι πιο πραγματικά από τον "πραγματικό" κόσμο
και θα συνεχίσουμε με όλες μας τις δυνάμεις να αγωνιζόμαστε

ενάντια
στην κυριαρχία
της ασημαντότητας
Void Network
(Theory, Utopia, Empathy, Ephemeral Arts)
http://voidnetwork.blogspot.com
With great sorrow, we have to announce that our situation in Omonoia is PROHIBITED by the ministry of the Environment. The ridiculous reason that the state used to PROHIBIT our event is that the amount of the people is dangerous for the stability of the square (that is possible to collapse on the underground metro station).If this ridiculous excuse is true the responsibilities of the ministry and the government are huge for the everyday life of the city.Of course no one used this cheap excuse when thousands of nationalists were coming in Omonoia to celebrate the "glorious" moments of the greek football team, when fascists were staggering Albanian immigrants in the square , when heroin sellers were gaining millions taking advantage of the addicted people , when thousands of citizens were following like sheep the political parties fiestas or when the mainstream culture was celebrating the "official" lifestyle insignificance.
After all , on Saturday 20th of October 2007 Omonoia square will remain the same gray , dead zone of trade and consumption , for one more day Omonoia square will be as our government dreamed it to be. And we will remain hidden in the limits of our ordinary life and trapped in the life that our government is dreaming for us.
But
we know
that our dreams
are more powerful than the "real" world.
for this reason will never surrender the fight
against the authority of the insignificance