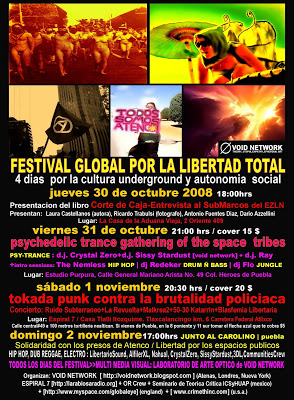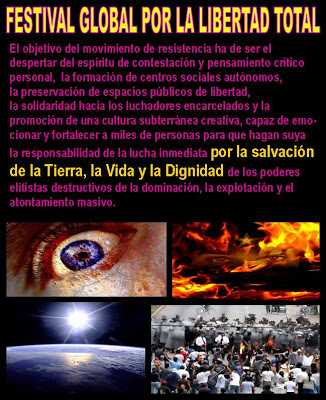 FESTIVAL GLOBAL POR LA LIBERTAD TOTAL
4 dias por la cultura underground
4 days for the underground cultures
and the social autonomia
jueves 30 de octubre 2008
18:00hrs
Presentacion del libro
(Book presentation and dialogue)
Corte de Caja-Entrevista
al SubMarcos del EZLN
Presentan:
Laura Castellanos (autora),
Ricardo Trabulsi (fotografo),
Antonio Fuentes Díaz, Dario Azzellini
Lugar (space):
La Casa de la Aduana Vieja, 2 Oriente 409
PSYCHEDELIC TRANCE
GATHERING
OF THE SPACE TRIBES
[electro acid psychedelic trance]
d.j.Crystal Zero [void network]
[ psychedelic ambient trance]
d.j. Sissy Stardust [void network]
Dj Ray
[full on]
+
special sets:
The Nemless
[hip hop]
dj Redeker
[drum n bass]
dj Flo
[jungle]
Lugar (space):
Estudio Purpura,
Calle General Mariano Arista No. 49 Col.
Heroes de Puebla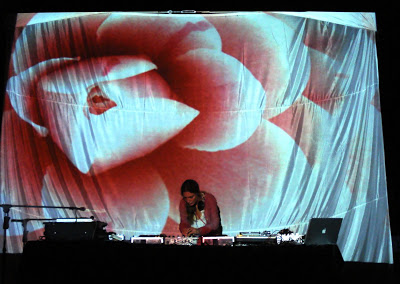 sábado 1 noviembre
20:30 hrs
AnarchoPunk Concierto:
Ruido Subterraneo
+ La Revuelta
+Malkrea2
+50-30 Katarrin
+Blasfemia Libertaria
Lugar (space):
Espiral 7 / CasaTlalli Itozquime.
(autonomous social centre)
Tlaxcalancingo km. 6 Carretera Federal Atlixco
Calle central#49 a 100 metros tortilleria nealtican.
Si vienes de Puebla,
en la 8 poniente y 11 sur tomar
el flecha azul que te cobra$5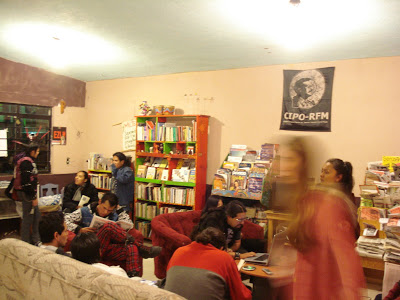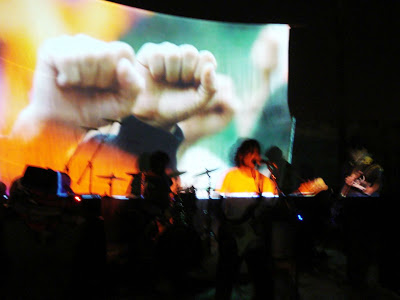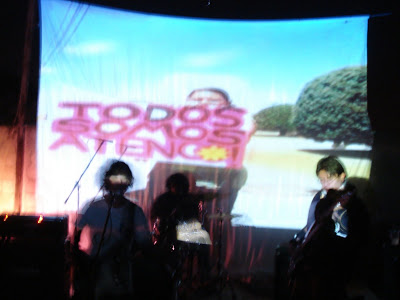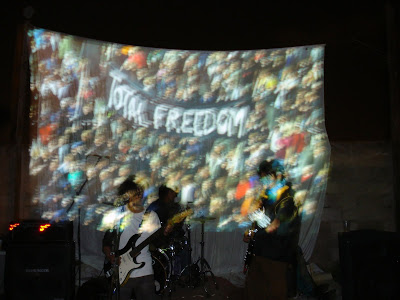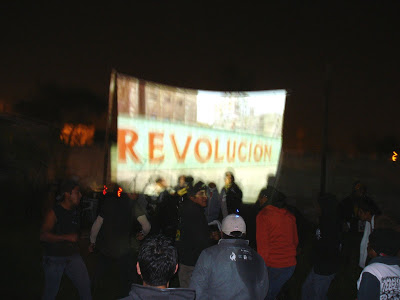 domingo 2 noviembre
17:00hrs
JUNTO AL CAROLINO
John Lennon Park
Centro Puebla
Solidaridad
con presos
de Atenco
Libertad
por los
espacios publicos
Solidarity to the
Atenco Prisoners
Freedom
to the
Public Space
HIP HOP | DUB REGGAE| ELECTRO TECHNO
LibertarioSound
AlfilerXL
Nahual
CrystalZero
SissyStardust
3DL
CommunitiesCrew
+special guests
ALL DAYS OF THE FESTIVAL
VOID ART MULTI MEDIA
VISUALS
BY
VOID
OPTICAL
ART
LABORATORY
Organizan:
VOID NETWORK
[ http://voidnetwork.blogspot.com ]
(Atenas, Londres, Nueva York)
ESPIRAL 7
[http://larabiosaradio.org]
(mexico)
+ OR Crew
(mexico)
+ Seminario de Teorica Critica ICSyHUAP
(mexico)
+
[http://www.myspace.com/globaleye]
(england)
+
(u.s.a.)
El objetivo del movimiento de resistencia ha de ser el despertar del espíritu de contestación y pensamiento crítico personal, la formación de centros sociales autónomos, la preservación de espacios públicos de libertad, la solidaridad hacia los luchadores encarcelados y la promoción de una cultura subterránea creativa, capaz de emocionar y fortalecer a miles de personas para que hagan suya la responsabilidad de la lucha inmediata por la salvación de la Tierra, la Vida y la Dignidad de los poderes elitistas destructivos de la dominación, la explotación y el atontamiento masivo.
The aim of the movement of resistance should be the awakening of spirit of contestation and personal critical thought, the configuration of autonomous social centres, the safeguarding of public spaces of freedom, the solidarity of jailed fighters and the appointment of creative underground culture capable to offer the enthusiasm and the strength to thousands of persons so that they undertake the responsibility of direct fight of salvation of Earth, Life and Dignity from devastating elitist forces of sovereignty, exploitation and mass stupefaction.
Σκοπός του κινήματος αντίστασης θα πρέπει να είναι η αφύπνιση του πνεύματος αμφισβήτησης και προσωπικής κριτικής σκέψης, η διαμόρφωση αυτόνομων κοινωνικών κέντρων, η διαφύλαξη δημόσιων χώρων ελευθερίας, η αλληλεγγύη των φυλακισμένων αγωνιστών και η ανάδειξη μιας δημιουργικής underground κουλτούρας ικανής να ενθουσιάσει και να ενδυναμώσει χιλιάδες ανθρώπους ώστε να αναλάβουν την ευθύνη του άμεσου αγώνα σωτηρίας της Γης, της Ζωής και της Αξιοπρέπειας από τις καταστροφικές ελιτιστικές δυνάμεις της κυριαρχίας, της εκμετάλλευσης και της μαζικής αποβλάκωσης